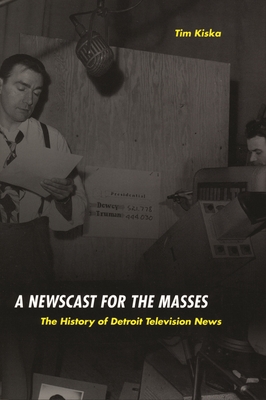 A Newscast for the Masses (Paperback)
The History of Detroit Television News (Great Lakes Books)
Great Lakes Books Series, 9780814333020, 198pp.
Publication Date: April 1, 2009
* Individual store prices may vary.
Description
As the chief source of information for many people and a key revenue stream for the country's broadcast conglomerates, local television news has grown from a curiosity into a powerful journalistic and cultural force. In A Newscast for the Masses, Tim Kiska examines the evolution of television news in Detroit, from its beginnings in the late 1940s, when television was considered a "wild young medium," to the early 1980s, when cable television permanently altered the broadcast landscape. Kiska shows how the local news, which was initially considered a poor substitute for respectable print journalism, became the cornerstone of television programming and the public's preferred news source.
Kiska begins his study in 1947 with the first Detroit television broadcast, made by WWJ-TV. Owned by the Evening News Association, the same company that owned the Detroit News, WWJ developed a credible broadcast news operation as a cross-promotional vehicle for the newspaper. Yet by the late 1960s WWJ was unseated by newcomers WXYZ-TV and WJBK-TV, whose superior coverage of the 1967 Detroit riots lured viewers away from WWJ. WXYZ-TV would eventually become the most powerful news outlet in Detroit with the help of its cash-rich parent company, the American Broadcasting Corporation, and its use of sophisticated survey research and advertising techniques to grow its news audience. Though critics tend to deride the sensationalism and showmanship of local television news, Kiska demonstrates that over the last several decades newscasts have effectively tailored their content to the demands of the viewing public and, as a result, have become the most trusted source of information for the average American and the most lucrative source of profit for television networks.
A Newscast for the Masses is based on extensive interviews with journalists who participated in the development of television in Detroit and careful research into the files of the McHugh & Hoffman consulting firm, which used social science techniques to discern the television viewing preferences of metro Detroiters. Anyone interested in television history or journalism will appreciate this detailed and informative study.
About the Author
Tim Kiska is a longtime Detroit newsman, professor of journalism, and author of From Soupy to Nuts: A History of Detroit Television. He joined the University of Michigan-Dearborn in 2001 after a three-decades-long career at the Detroit Free Press and the Detroit News. He also works as a reporter and producer at WWJ-AM.