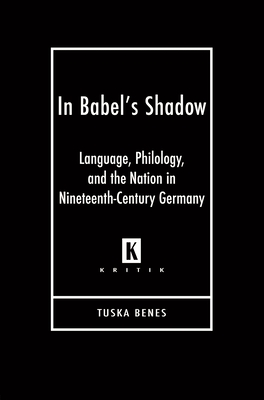 In Babel's Shadow (Hardcover)
Language, Philology, and the Nation in Nineteenth-Century Germany (Kritik: German Literary Theory and Cultural Studies)
Kritik: German Literary Theory and Cultural S, 9780814333044, 418pp.
Publication Date: August 27, 2008
* Individual store prices may vary.
Description
In contrast to fields like anthropology, the history of linguistics has received remarkably little attention outside of its own discipline despite the undeniable impact language study has had on the modern period. In Babel's Shadow situates German language scholarship in relation to European nationalism, nineteenth-century notions of race and ethnicity, the methodologies of humanistic inquiry, and debates over the interpretation of scripture. Author Tuska Benes investigates how the German nation came to be defined as a linguistic community and argues that the "linguistic turn" in today's social sciences and humanities can be traced to the late eighteenth century, emerging within a German tradition of using language to critique the production of knowledge.

In this volume, Benes suggests that nineteenth-century philologists interpreted language as evidence of ethnic descent and created influential myths of cultural origin around the perceived starting points of their mother tongue. She argues that the origin paradigm so prevalent in German linguistic thought reinforced the historical and ethnic focus of German nationhood, with important implications for German theologians, cultural critics, philosophers, and racial theorists. In Babel's Shadow also contextualizes the importance of linguistics to modern cultural studies by arguing that the cultural significance attributed to language in twentieth-century French philosophy dates to the late eighteenth century and has clear precedents in theology. Benes links the German tradition of reflecting on the autonomous powers of language to the work of the fathers of structuralist and poststructuralist thought, Ferdinand de Saussure and Friedrich Nietzsche.

In Babel's Shadow makes clear that comparative philology helped make language an important model and informing metaphor for other modes of thinking in the modern human sciences. Cultural and intellectual historians, scholars of German language and literature, and linguists will enjoy this illuminating volume.
About the Author
Tuska Benes is assistant professor of history at the College of William and Mary.