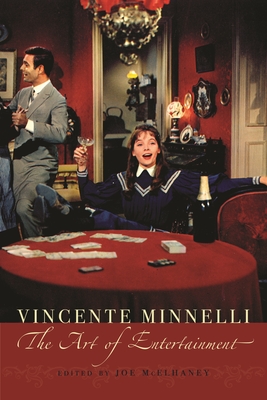 Vincente Minelli (Paperback)
The Art of Entertainment (Contemporary Approaches to Film and Television)
Wayne State University Press, 9780814333075, 458pp.
Publication Date: November 18, 2008
* Individual store prices may vary.
Description
Widely known for innovative films like Meet Me in St. Louis, An American in Paris, and The Band Wagon, Vincente Minnelli also directed classic film comedies like Father of the Bride and Designing Woman, and melodramas such as The Bad and the Beautiful and Some Came Running. Though his work is beloved by filmmakers and audiences alike, Minnelli has nonetheless received very little critical attention in English. Vincente Minnelli: The Art of Entertainment remedies this imbalance, offering the first-ever comprehensive and scholarly examination of Minnelli's career within a variety of discourses and methods.

Bringing together a number of previously uncollected and untranslated essays by some of the most important scholars and critics in North America, Australia, and Europe, Vincente Minnelli: The Art of Entertainment places Minnelli's cinema in its rightful position at the forefront of film history. In essays written over the last five decades, as well as a number of new essays commissioned especially for this volume, contributors consider Minnelli from a number of perspectives from auteurism to genre studies and psychoanalysis to close textual analysis. The volume is divided into four chronological sections, Minnelli in the 1960s: The Rise and Fall of an Auteur; The 1970s and 1980s: Genre, Psychoanalysis, and Close Readings; The 1990s: Matters of History, Culture, and Sexuality; and Minnelli Today: The Return of the Artist. An introduction by Joe McElhaney addresses the history of the reception of Minnelli's films, situating this reception within larger questions of film theory, criticism, and aesthetics.

Too often dismissed as little more than a stylist dependent on the resources of the studio system and the structures of genre, Vincente Minnelli deserves a second look from serious film scholars. Vincente Minnelli: The Art of Entertainment demonstrates the remarkable and sustained rigor of Minnelli's vision and will appeal to students and teachers of film studies as well as fans of Minnelli's work.
About the Author
Joe McElhaney is associate professor of film studies at Hunter College/City University of New York. He is the author of The Death of Classical Cinema: Hitchcock, Lang, Minnelli and Albert Maysles.