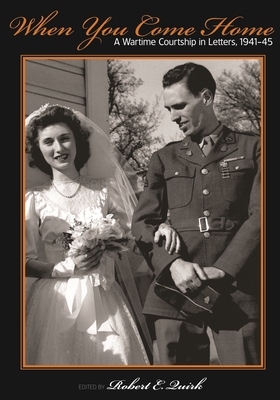 When You Come Home (Paperback)
A Wartime Courtship in Letters, 1941-45 (Great Lakes Books)
Wayne State University Press, 9780814333341, 369pp.
Publication Date: October 16, 2007
* Individual store prices may vary.
Description
Robert E. Quirk and his future wife, Marianne, were both Wayne State University students when they met and fell in love in 1941, but they were quickly parted when Quirk was drafted. Decades after their marriage and the end of the war, Quirk shares the letters they exchanged during World War II.

The letters in When You Come Home paint a vivid picture of the couple's growing personal relationship alongside the politics of wartime, both overseas and on the homefront. As Quirk writes of combat in France and details reactions abroad to the bombing of Pearl Harbor, Marianne describes the impact of these events back in Detroit. When You Come Home also reveals personal glimpses of life in the 1940s, as the two exchange everyday stories about their families and the cities they live in and visit, about their studies at Wayne State, and about their jobs.

Quirk's letters are presented along with commentary about his experiences at the time, giving the letters additional context and meaning. This volume also includes a foreword by former Detroit Free Press publisher Neal Shine.
For readers curious about day-to-day life during World War II, When You Come Home will be a fascinating and personal glimpse into the time period.
About the Author
Robert E. Quirk is professor emeritus of Latin American history at Indiana University.