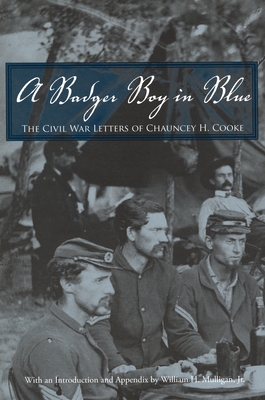 A Badger Boy in Blue (Paperback)
The Civil War Letters of Chauncey H. Cooke (Great Lakes Books)
Wayne State University Press, 9780814333433, 128pp.
Publication Date: January 18, 2007
* Individual store prices may vary.
Description
Chauncey H. Cooke enlisted in the Union army in 1862 at only sixteen, after lying about his age. Like many soldiers, Cooke saw only limited action in battle, but his letters to family members paint a realistic and compelling picture of daily life in the Civil War. Alongside dramatic descriptions of encounters with Indians, comrades, rebel prisoners, slaves, and Southern whites, Cooke also describes the boredom of camp, the chaos of battle, and the suffering caused by illness. Cooke's emotional closeness to his family, especially his mother, also comes across strongly in his letters, and readers will feel an instant connection to the young soldier through his words.
Among other collections of Civil War writings, A Badger Boy in Blue stands out because of the wealth of rich detail included in Cooke's letters. Readers are presented with an accurate picture of a soldier's daily life through Cooke's commentary on everything from the food he ate, to the weather, to the kind of paper that he used for writing. In addition, Cooke's descriptions of battle are valuable in offering fresh insight into the often-overlooked midwestern armies and campaigns. His descriptions of the siege of Vicksburg and the Atlanta Campaign are especially thoughtful and unique. The letters also present empathetic and colorful portraits of the frightened, defiant, and curious civilians that the army encountered along the way.
William Mulligan, Jr., provides an introduction and annotations in A Badger Boy in Blue to add expert commentary and context for Cooke's letters. Four maps are also included to clarify locations mentioned in the text. History buffs, scholars, and general readers interested in the Civil War will appreciate this thorough volume.
About the Author
William Mulligan, Jr., is professor of history at Murray State University.