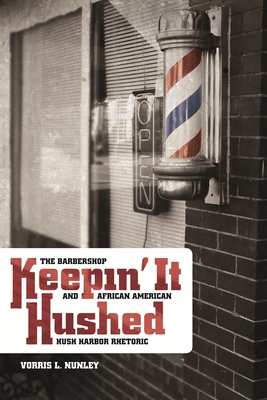 Keepin' It Hushed (Paperback)
The Barbershop and African American Hush Harbor Rhetoric (African American Life)
Wayne State University Press, 9780814333488, 224pp.
Publication Date: March 15, 2011
* Individual store prices may vary.
Description
In Keepin' It Hushed: The Barbershop and African American Hush Harbor Rhetoric, Vorris L. Nunley investigates the role of the hush harbor (a safe place for free expression among African American speakers) as a productive space of rhetorical tradition and knowledge generation. Nunley identifies the barbershop as an important hush harbor for black males in particular and traces the powerful cultural trope and its hidden tradition of African American knowledge through multiple texts. From Dunbar's "We Wear the Mask" to the recent Barbershop movies and the provocative rhetoric of Reverend Jeremiah Wright, Nunley's study touches on a range of time periods and genres.

Nunley's introduction connects African American Hush Harbor Rhetoric (AAHHR) to everyday considerations of what may or may not be spoken in public and how African American speakers manage numerous hidden transcripts. In the first three chapters, Nunley charts different iterations of hush harbors and their function in the context of residual and emergent rhetorical traditions. He investigates public sphere theory and its application (and misapplication) to black civil society and hush harbors and connects AAHHR to nommo, the power of the word. In chapters 4 and 5, Nunley examines the ubiquity of the hush harbor trope in African American culture and considers barbershops as pedagogical sites, using literature, poetry, philosophy, and film to make his case. In chapter 6, he analyzes the Barbershop movie in detail, arguing that the movie's commodified, neoliberal version of AAHHR did not represent a hush harbor, although that was ostensibly the aim.

Keepin' It Hushed concludes with a presentation of a hush harbor pedagogy in chapter 7 and a distinctive analysis of hush harbor oriented speeches by then-Senator Obama and Rev. Jeremiah Wright. Rhetoricians and readers interested in African American life and culture will appreciate the cogent analysis in Nunley's volume.
About the Author
Vorris L. Nunley is professor of English and rhetoric at the University of California, Riverside and co-editor of Rhetoric and Ethnicity.