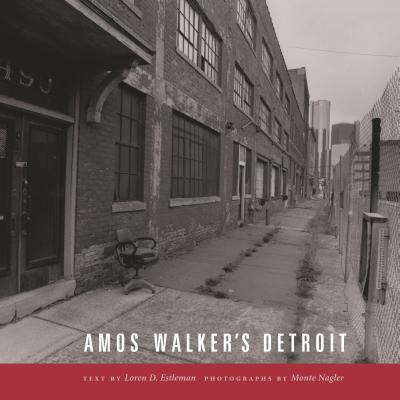 Amos Walker's Detroit (Painted Turtle Books) (Hardcover)
Painted Turtle Book, 9780814333570, 91pp.
Publication Date: August 28, 2007
* Individual store prices may vary.
Description
Amos Walker's Detroit visits dozens of unforgettable locations from Loren D. Estleman's Amos Walker series. As Estleman says of Detroit in the preface: "It's a hard-boiled town, and the crumbling buildings and rusting railroad tracks of the warehouse district, the palaces across the limits in Grosse Pointe, and the black-hole shadows of the Cass Corridor were made to order for a remaindered knight chasing truth through a maze of threats, deceptions, and inconvenient corpses. City and protagonist are cut from the same coarse cloth. They are the series' two heroes."
Amos Walker's Detroit allows Estleman's settings to take center stage as noted photographer Monte Nagler turns his lens to Estleman's various noir locations. Some locations are well-known landmarks, like the Renaissance Center, the Wayne County Building, Belle Isle, and Mexicantown, and some are fictional locales such as Walker's home and office. Even when the locations are familiar, Nagler's lens renders them in fresh and unexpected ways. Excerpts from Estleman's novels describing the locations accompany each image and Estleman's thoughtful introduction contextualizes the images and comments on the role of Detroit as a noir backdrop.
The photographs in Amos Walker's Detroit show the city in a new light, demonstrating that Detroit's grit and glamour coexist in unexpected places and make a perfect setting for a mystery. Fans of the Amos Walker series, as well as those interested in photography, architecture, and local culture will appreciate this handsome volume.
About the Author
Loren D. Estleman is author of sixty books, including Writing the Popular Novel, the Spur Award-winning The Undertaker's Wife, Nicotine Kiss, The Adventures of Johnny Vermillion, and American Detective (the latest Amos Walker novel). He has received seventeen national writing awards and has been nominated for the National Book Award and the Mystery Writers of America Edgar Allan Poe Award.Monte Nagler is an award-winning landscape photographer whose work is found in many private and public collections, including the Detroit Institute of Arts, the Center for Creative Photography in Tucson, the Brooklyn Museum, General Electric, and DaimlerChrysler. A student of Ansel Adams, he is a member of the esteemed Camera Craftsmen of America. He is also a noted writer, lecturer, and teacher of photography, and author of How to Improve Your Photographic Vision, Statements of Light, and Monte Nagler's Michigan.
or
Not Currently Available for Direct Purchase