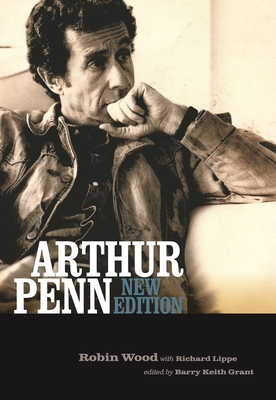 Arthur Penn (Contemporary Approaches to Film and Media) (Paperback)
Wayne State University Press, 9780814333587, 258pp.
Publication Date: June 2, 2014
* Individual store prices may vary.
Description
Arthur Penn--director of The Miracle Worker, Bonnie and Clyde, Alice's Restaurant, and Little Big Man--was at the height of his career when Robin Wood's analysis of the American director was originally published in 1969. Although Wood then considered Penn's career only through Little Big Man, Arthur Penn remains the most insightful discussion of the director yet published. In this new edition, editor Barry Keith Grant presents the full text of the original monograph along with additional material, showcasing Wood's groundbreaking and engaging analysis of the director.

Of all the directors that Wood profiled, Penn is the only one with whom he developed a personal relationship. In fact, Penn welcomed Wood on the set of Little Big Man (1969), where he interviewed the director during production of the film and again years later when Penn visited Wood at home. Both interviews are included in this expanded edition of Arthur Penn, as are five other pieces written over a period of sixteen years, including the extended discussion of The Chase that was the second chapter of Wood's later important book Hollywood from Vietnam to Reagan. The volume also includes a complete filmography and a foreword by Barry Keith Grant.

The fourth classic monograph by Wood to be republished by Wayne State University Press, this volume will be welcomed by film scholars and readers interested in American cinematic and cultural history.
About the Author
Robin Wood was a founding editor of CineAction! and author of numerous influential works, including new editions of Personal Views: Explorations in Film (Wayne State University Press, 2006), Howard Hawks (Wayne State University Press, 2006), and Ingmar Bergman (Wayne State University Press, 2013). He was a professor emeritus at York University, Toronto, and the recipient of a Lifetime Achievement Award from the Society for Cinema and Media Studies. Barry Keith Grant is a professor in the Department of Communication, Popular Culture, and Film at Brock University in Ontario, Canada. He is the author or editor of many books, including Shadows of Doubt: Negotiations of Masculinity in American Genre Films (Wayne State University Press, 2011) and Documenting the Documentary: Close Readings of Documentary Film and Video (Wayne State University Press, 1998 and 2014).