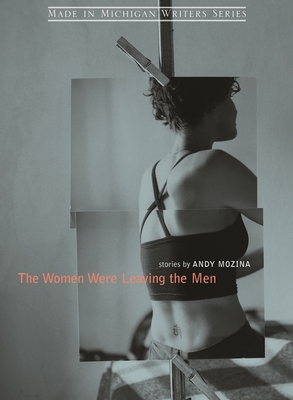 The Women Were Leaving the Men (Made in Michigan Writers) (Paperback)
Wayne State University Press, 9780814333624, 230pp.
Publication Date: May 7, 2007
* Individual store prices may vary.
Description
In The Women Were Leaving the Men, Andy Mozina draws readers into the everyday lives of characters who are instantly relatable but intriguingly flawed. Knocked beyond the brink by departed family members, curious obsessions, and unruly physical attributes, Mozina's characters climb and scrape their way toward intimacy, sanity, and redemption against the often-absurd odds of their lives in this unique, humorous, and poetic collection.
Though Mozina's stories have been published by various literary magazines, this is his first full-length collection of short fiction. In The Women Were Leaving the Men, readers will encounter numerous haunting characters. A divorced astronaut, back from the moon, tries to rehabilitate his stroke-ridden mother. A young woman must decide whether to stay with a man she suspects of being a murderer. A son helps his mother bake a cake sculpted into the image of his runaway father. A man born with a single enormous hand can barely tell the difference between cleaning and making love. Despite their fantastic twists, every story in The Women Were Leaving the Men is rooted in emotional realism and fueled by the humor and pathos of the characters' conflicts and relationships. Readers will recognize familiar feelings in interactions between lovers, friends, and strangers, all rendered with strikingly real detail and a sense of humor.
Mozina takes us deeply into his characters' complex lives so that we may more fully observe and discover the idiosyncrasies in our own. General readers and anyone interested in short fiction will enjoy this remarkable collection.
About the Author
Andy Mozina is associate professor of English at Kalamazoo College and author of Joseph Conrad and the Art of Sacrifice. His short stories have appeared in numerous literary magazines including Tin House, the Massachusetts Review, Alaska Quarterly Review, Fence, West Branch, Beloit Fiction Journal, and the Florida Review. This collection was a finalist for the Mary McCarthy Prize in Short Fiction, and Mozina's short story "The Women Were Leaving the Men" received special mention in The Pushcart Prize (2006) and was named a distinguished story in The Best American Short Stories 2005.
or
Not Currently Available for Direct Purchase