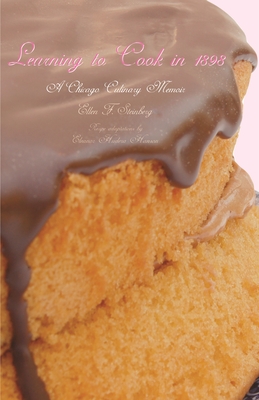 Learning to Cook in 1898 (Paperback)
A Chicago Culinary Memoir (Great Lakes Books)
Wayne State University Press, 9780814333648, 218pp.
Publication Date: July 19, 2007
* Individual store prices may vary.
Description
Learning to Cook in 1898 is more than just a cookbook or a collection of nostalgic recipes. While the volume does contain treasured family recipes, the book's primary focus is on the efforts Irma Rosenthal Frankenstein took to educate herself about cooking, nutrition, health, and household management as a young, American-born, middle class Chicago bride of Jewish heritage at the turn of the century.
In this volume, author Ellen F. Steinberg analyzes primary material found in Irma's "First Cook Book" and memoirs. She focuses on approximately one year in Irma's life during which the bride-to-be collected recipes for a variety of entrees, vegetable dishes, soups, salads, tea sandwiches, baked goods, and desserts. Though many of these recipes have obvious German roots, some were clipped from local newspapers and women's magazines, demonstrating Irma's efforts to combine her family's culinary traditions with modern American foodways. Eleanor Hanson, a culinary professional, worked with Steinberg to adapt more than eighty of the recipes for modern cooks.
Learning to Cook in 1898 offers insights into everyday life of the era, the sphere of women's experience, and the customs of German and German-American communities in the Midwest. The text and recipes together will give readers interested in culinary history an opportunity not only to step back into the past but also to sample the rich tastes of those times.
About the Author
Ellen F. Steinberg is an anthropological researcher and writer who was born and raised in Chicago. She is the author of two multidisciplinary works, Teach Me: An Ethnography of Adolescent Learning and Irma: A Chicago Woman's Story, 1871-1966. She teaches as a visiting professor at local colleges, is a past president of Yonah Hadassah, and is vice president and Chicago-area chair of the Society of Woman Geographers.Eleanor Hudera Hanson is a food consultant and founding partner of FoodWatch trend consulting company. Prior to founding FoodWatch, she worked with Kraft foods for seventeen years as manager of grocery products and later as director of Kraft Kitchens. Hanson is a member of the International Association of Culinary Professionals, the Food and Culinary Professionals section of the American Dietetics Association, and Les Dames d'Escoffier.