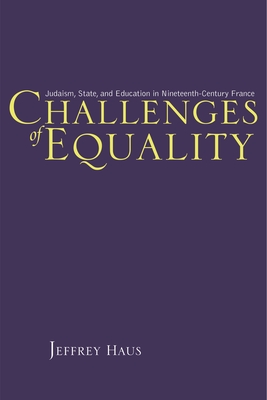 Challenges of Equality (Hardcover)
Judaism, State, and Education in Nineteenth-Century France
Wayne State University Press, 9780814333808, 230pp.
Publication Date: April 1, 2009
* Individual store prices may vary.
Description
Historians have typically characterized nineteenth-century French Jewry as largely eager to assimilate, or, at the very least, passively accommodating to assimilation, with only the most traditional Jews rejecting the trappings of French culture. Through the lens of Jewish primary and rabbinical education, author Jeffrey Haus shows that even integrated French Jews sought to set limits on assimilation and struggled to preserve a sense of Jewish distinctiveness in France. Challenges of Equality argues that Jewish leaders couched their views in terms that the government could understand and accept, portraying a Judaism consistent with the goal of cultural and political unification of the French nation. At the same time, their educational activities asserted the existence of distinctively Jewish cultural space.

Haus shows how French government officials repeatedly used political and financial pressure to advance their own vision of an integrated French Judaism. In response, Jewish leaders focused on the concepts of "utility" and "equality" to erect and manage the boundaries between their institutions and the state, as these were key elements of governmental policy toward religious and educational establishments. Haus examines these issues by comparing the financial and curricular histories of Jewish primary schools run by the Consistory and the central French rabbinical school. Utilizing a variety of sources--including school curricula, rabbinical ordination examinations, government documents and correspondence, state jurisprudential decisions, and the French Jewish press--Challenges of Equality paints a picture of a resilient and persistent French Judaism that adapted, integrated, but nevertheless survived.

Scholars of Jewish history, French history, European history, and the history of education will appreciate the detailed look at Jewish integration in France that Haus provides.
About the Author
Jeffrey Haus is assistant professor of history and religion and director of Jewish studies at Kalamazoo College.