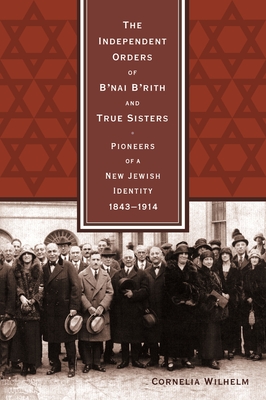 The Independent Orders of B'Nai B'Rith and True Sisters (Hardcover)
Pioneers of a New Jewish Identity, 1843-1914
Wayne State University Press, 9780814334034, 361pp.
Publication Date: July 15, 2011
* Individual store prices may vary.
Description
Founded in New York City in 1843 by immigrants from German or German-speaking territories in Central Europe, the Independent Order of B'nai B'rith sought to integrate Jewish identity with the public and civil sphere in America. In The Independent Orders of B'nai B'rith and True Sisters: Pioneers of a New Jewish Identity, 1843-1914, author Cornelia Wilhelm examines B'nai B'rith, and the closely linked Independent Order of True Sisters, to find their larger German Jewish social and intellectual context and explore their ambitions of building a "civil Judaism" outside the synagogue in America.

Wilhelm details the founding, growth, and evolution of both organizations as fraternal orders and examines how they served as a civil platform for Jews to reinvent, stage, and voice themselves as American citizens. Wilhelm discusses many of the challenges the B'nai B'rith faced, including the growth of competing organizations, the need for a democratic ethnic representation, the difficulties of keeping its core values and solidarity alive in a growing and increasingly incoherent mass organization, and the iconization of the Order as an exclusionary "German Jewish elite." Wilhelm's study offers new insights into B'nai B'rith's important community work, including its contribution to organizing and financing a nationwide hospital and orphanage system, its life insurance, its relationships with new immigrants, and its efforts to reach out locally with branches on the Lower East Side.

Based on extensive archival research, Wilhelm's study demonstrates the central place of B'nai B'rith in the formation and propagation of a uniquely American Jewish identity. The Independent Orders of B'nai B'rith and True Sisters will interest all scholars of Jewish history, B'nai B'rith and True Sisters members, and readers interested in American history.
About the Author
Cornelia Wilhelm is currently DAAD Professor at the Departments of History and Jewish Studies at Emory University. She also teaches as Professor in the Department of History at Ludwig-Maximilians-University Munich. She is author of Movement or Association? Nazi Volkstumspolitik among German Americans 1933-1945, German Jews in the United States: A Guide to Archival Collections, and German Jews in America: Bourgeois Civil Self-Awareness and Jewish Identity in the Orders B'nai B'rith and True Sisters.