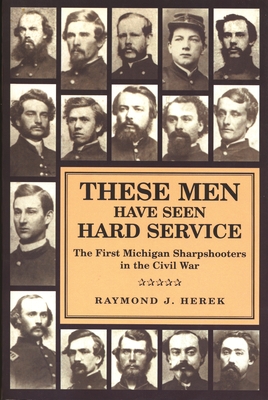 These Men Have Seen Hard Service (Paperback)
The First Michigan Sharpshooters in the Civil War (Great Lakes Books)
Great Lakes Books Series, 9780814334072, 616pp.
Publication Date: March 10, 1908
* Individual store prices may vary.
Description
These Men Have Seen Hard Service recounts the fascinating history of one outstanding Michigan regiment during the Civil War. A compelling political, social, ethnic, and military drama, this book examines the lives of the 1300 men of the First Michigan Sharpshooters for the first time, beginning with the regiment's inception and extending through post-war activities until the death of the last rifleman in 1946. Beyond presenting numerous anecdotes about the men and officers and their contributions during the war, Raymond Herek provides insight into the medical community of the time, the draft, other commands in the same division, the politics endemic in raising a regiment, and Michigan's Native American contingent. The extensive appendices will be of particular use to genealogists, Civil War enthusiasts, and historians, because they list the men in the regiment, and also battle and camp casualties.
About the Author
Raymond J. Herek is chair of the social studies department at Alcona Community High School where he teaches history and English. He also teaches history at Alpena Community College and has published widely on the subject of military and regional history.