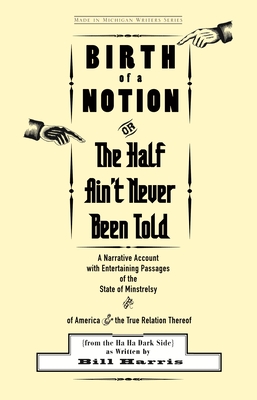 Birth of a Notion; Or, the Half Ain't Never Been Told (Paperback)
A Narrative Account with Entertaining Passages of the State of Minstrelsy and of America & the (Made in Michigan Writers)
Wayne State University Press, 9780814334089, 218pp.
Publication Date: May 15, 2010
* Individual store prices may vary.
Description
In Birth of a Notion, poet and playwright Bill Harris confronts contemporary stereotypes and prejudices by looking back to their roots in early American history. In a hybrid work of prose and poetry that takes its cues from nineteenth-century minstrelsy, Harris speaks back to preconceived notions about "blackness" through many different characters and voices. His narrative is at turns sarcastic, serious, wry, and lyrical, as he investigates the source of pervasive racist images and their incorporation into American culture.
Harris takes readers on a tour of nineteenth-century American history, from the 1830s and the rise of the abolitionist movement, to Reconstruction and the Industrial Revolution in the 1860s, and to the beginning of the twentieth century. He considers cultural productions that gave rise to America's idea of the "new Negro," including the development of minstrelsy as popular entertainment, the publication of Uncle Tom's Cabin, the museum curios of P. T. Barnum, and the exhibitions of "exotic" people at the 1893 Chicago World's Fair. Along the way, Harris interjects a range of symbols, word-play, and famous personalities into his narrative, referring to everyone from Karl Marx, Uncle Sam, Charles Dickens, Buffalo Bill, and Walt Whitman. He ends with the development of jazz and the blues as cultural products that would become important vehicles for self-representation in the new century.
Harris's fast-paced narrative interspersed with graphic elements shows the importance of point-of-view in creating history, which always contains some elements of fiction as a result. Anyone interested in poetry, American history, and African American studies will appreciate Birth of a Notion.
About the Author
Bill Harris is a Wayne State University emeritus professor of English. His plays have been produced nationwide, and he has published books of plays, poetry, and reappraisals of American history. He received the 2011 Kresge Foundation Eminent Artist award.
or
Not Currently Available for Direct Purchase