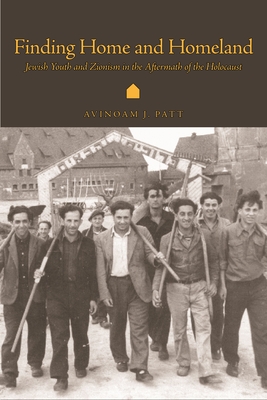 Finding Home and Homeland
Jewish Youth and Zionism in the Aftermath of the Holocaust
Hardcover

* Individual store prices may vary.
Description
Although they represented only a small portion of all displaced persons after World War II, Jewish displaced persons in postwar Europe played a central role on the international diplomatic stage. In fact, the overwhelming Zionist enthusiasm of this group, particularly in the large segment of young adults among them, was vital to the diplomatic decisions that led to the creation of the state of Israel so soon after the war. In Finding Home and Homeland, Avinoam J. Patt examines the meaning and appeal of Zionism to young Jewish displaced persons and looks for the reasons for its success among Holocaust survivors.

Patt argues that Zionism was highly successful in filling a positive function for young displaced persons in the aftermath of the Holocaust because it provided a secure environment for vocational training, education, rehabilitation, and a sense of family. One of the foremost expressions of Zionist affiliation on the part of surviving Jewish youths after the war was the choice to live in kibbutzim organized within displaced persons camps in Germany and Poland, or even on estates of former Nazi leaders. By the summer of 1947, there were close to 300 kibbutzim in the American zone of occupied Germany with over 15,000 members, as well as 40 agricultural training settlements (hakhsharot) with over 3,000 members. Ultimately, these young people would be called upon to assist the state of Israel in the fighting that broke out in 1948. Patt argues that for many of the youth who joined the kibbutzim of the Zionist youth movements and journeyed to Israel, it was the search for a new home that ultimately brought them to a new homeland.

Finding Home and Homeland consults previously untapped sources created by young Holocaust survivors after the war and in so doing reflects the experiences of a highly resourceful, resilient, and dedicated group that was passionate about the creation of a Jewish state in Palestine. Jewish studies, European history, and Israel studies scholars will appreciate the fresh perspective on the experiences of the Jewish displaced person population provided by this significant volume.
Wayne State University Press, 9780814334263, 384pp.
Publication Date: May 1, 2009
About the Author
Avinoam J. Patt is the Philip D. Feltman Chair in Modern Jewish History at the University of Hartford and the former Miles Lerman Applied Research Scholar for Jewish Life and Culture at the United States Holocaust Memorial Museum in Washington, D.C.