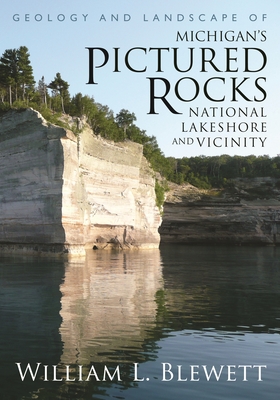 Geology and Landscape of Michigan's Pictured Rocks National Lakeshore and Vicinity (Great Lakes Books) (Paperback)
Wayne State University Press, 9780814334416, 200pp.
Publication Date: March 15, 2012
* Individual store prices may vary.
Description
Michigan's Pictured Rocks National Lakeshore was established in 1966 to preserve one of the most exquisite freshwater coastal landscapes in North America. Located between Munising and Grand Marais on Lake Superior, the rugged coastline is anchored by the Pictured Rocks cliffs-soaring sandstone fortresses awash with natural pink, green, and brown pigments. While the Pictured Rocks' geologic history is generally well understood by scientists, much of this information is scattered among different sources and not easily accessible to general readers. In Geology and Landscape of Michigan's Pictured Rocks National Lakeshore and Vicinity, William L. Blewett synthesizes published and unpublished information on the park's geologic history and combines it with vivid color photographs, detailed maps, and diagrams of the area.
Blewett examines the history and geology of the very ancient Precambrian, Cambrian, and Ordovician components of the Pictured Rocks dating back hundreds of millions of years, as well as the much younger unconsolidated Pleistocene (ice age) and Holocene (warm period since the ice age, including the modern landscape) sediments mantling the bedrock, most of which are no older than 12,000 years. He also details the history of the Lake Superior basin, tracing the events that shaped the modern shoreline from ancient times. For visitors to Pictured Rocks National Lakeshore, Blewett has provided a detailed mileage-referenced road log to guide readers to the best and most accessible field sites, and, for the more adventurous, includes a day hike keyed to the geology. A comprehensive bibliography and index are also included at the end of the book for further research.
While it assumes an understanding of basic geologic principles, the volume is very readable and suitable for students, interested park visitors, and geologists, physical geographers, and those working in closely related fields such as archaeology, biology, ecology, and environmental science.
About the Author
William L. Blewett is professor and chair of the Geography-Earth Science Department at Shippensburg University of Pennsylvania, where he teaches physical geology, geomorphology, and the geology of national parks. Prior to doctoral study, he was a researcher for National Geographic magazine in Washington, D.C.