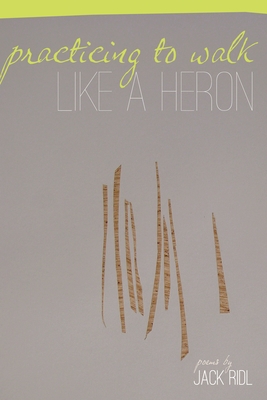 Practicing to Walk Like a Heron (Made in Michigan Writers) (Paperback)
Wayne State University Press, 9780814334539, 158pp.
Publication Date: February 1, 2013
* Individual store prices may vary.
Description
In Practicing to Walk Like a Heron multiple-award-winning Michigan poet Jack Ridl shares lines of well-earned wisdom in the face of a constantly changing world. The familiar comforts of life-a warm fire in winter, a lush garden in summer-become the settings for transcendent and universal truths in these poems, as moments of grief, sadness, and melancholy trigger a deeper appreciation for small but important joys. The simple clarity of Ridl's lines and diction make the poems accessible to all readers, but especially rewarding for those who appreciate carefully honed, masterful verse.
Many of the poems take solace in nature-quiet deer outside in the woods, deep snow, a thrush's empty nest in the eaves-as well as man-made things in the world-a steamer trunk, glass jars, tea cups, and books piled high near an easy chair. Yet Ridl avoids becoming nostalgic or romantic in his surroundings, and shows that there is nothing easy in his celebration of topics like "The Letters," "But He Loved His Dog," "A Christmas List for Santa," and "The Enormous Mystery of Couples." An interlude of full-color pages divides Ridl's more personal poems with a section of circus-themed pieces, adding visions of elephants, trumpets, tents, sequins, and sideshows, and the uniquely travel-weary perspectives of jugglers, trapeze artists, roustabouts, and clowns.
Practicing to Walk Like a Heron unabashedly affirms the quirky and eccentric, the small and mundane, and the intellectual and experiential in life. This relatable and emotionally powerful volume will appeal to all poetry readers.
About the Author
Jack Ridl is the author of Broken Symmetry (Wayne State University Press, 2006), named best book of poetry for 2006 by The Society of Midland Authors, and of Losing Season, and is co-author with Peter Schakel of Approaching Literature. He is professor emeritus at Hope College, where he was named Michigan's Professor of the Year in 1996 by the Carnegie (C.A.S.E.) Foundation. More than 75 of his students are now published authors.
or
Not Currently Available for Direct Purchase