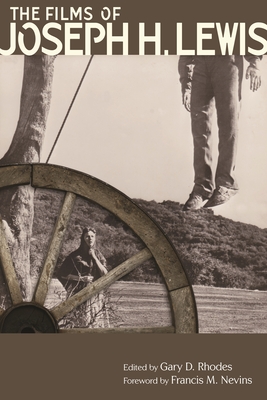 The Films of Joseph H. Lewis (Contemporary Approaches to Film and Media) (Paperback)
Wayne State University Press, 9780814334621, 284pp.
Publication Date: September 5, 2012
* Individual store prices may vary.
Description
Joseph H. Lewis enjoyed a monumental career in many genres, including film noir and B-movies (with the East Side Kids) as well as an extensive and often overlooked TV career. In The Films of Joseph H. Lewis, editor Gary D. Rhodes, PhD. gathers notable scholars from around the globe to examine the full range of Lewis's career. While some studies analyze Lewis's work in different areas, others focus on particular films, ranging from poverty row fare to westerns and "television films." Overall, this collection offers fresh perspectives on Lewis as an auteur, a director responsible for individually unique works as well as a sustained and coherent style.
Essays in part 1 investigate the texts and contexts that were important to Lewis's film and television career, as contributors explore his innovative visual style and themes in both mediums. Contributors to part 2 present an array of essays on specific films, including Lewis's remarkable and prescient Invisible Ghost and other notable films My Name Is Julia Ross, So Dark the Night, and The Big Combo. Part 3 presents an extended case study of Lewis's most famous and-arguably-most important work, Gun Crazy. Contributors take three distinct approaches to the film: in the context of its genre as film noir and modernist and postmodernist film; in its relationship to masculinity and masochism; and in terms of ethos and ethics.
The Films of Joseph H. Lewis offers a thorough assessment of Lewis's career and also provides insight into film and television making in the 1930s, 40s, and 50s. Scholars of film and television studies and fans of Lewis's work will appreciate this comprehensive collection.
About the Author
Gary D. Rhodes, PhD, is a film historian, filmmaker, and a lecturer of film studies at the Queen's University of Belfast. His films include Lugosi: Hollywood's Dracula and Banned in Oklahoma. Rhodes is also the author of The Perils of Moviegoing in America and Emerald Illusions: The Irish in Early American Cinema.Contributors: Lance Duerfahrd, Michael E. Grost, David J. Hogan, Brian Hoyle, Christopher Justice, Michael Lee, Hugh S. Manon, Francis M. Nevins, Gary D. Rhodes, Marlisa Santos, Robert Singer, Phillip Sipiora, Brian Taves, Yannis Tzioumakis, Tony Williams