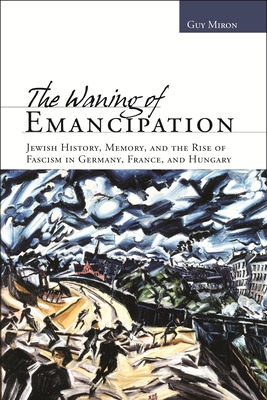 The Waning of Emancipation (Hardcover)
Jewish History, Memory, and the Rise of Fascism in Germany, France, and Hungary (Non-Series)
Wayne State University Press, 9780814334706, 320pp.
Publication Date: November 30, 2011
* Individual store prices may vary.
Description
With the rise of Fascism in Europe, and particularly the ascent of Germany's Nazi Party, Jews in Germany and eastern and western Europe were forced to cope with an eroding civil and social status, increasing daily limitations, and a dark future on the horizon. This reality looked very different from the recent past of emancipation, in which Jewish citizens had enjoyed civic equality and the advance of social integration. In The Waning of Emancipation: Jewish History, Memory, and the Rise of Fascism in Germany, France, and Hungary, author Guy Miron examines how Jewish spokespeople from three European communities--Germany, France, and Hungary--confronted these challenges, and whether they coped by holding onto historical perceptions that materialized during the emancipation era or by adopting new views.

Miron demonstrates that pre-Holocaust Germany, France, and Hungary make interesting case studies because of the divergence of the starting points for emancipation in each country, their unique and complex political cultures both during the golden age of emancipation and after its decline, and the distinct relationship each held between church and state. In three sections, Miron considers the three countries in turn, with two chapters devoted to how each community came to terms with the crisis in relation to its internal diversity and political divisions. To analyze the evolving Jewish public discourse in each country, Miron consults numerous primary sources, including articles and essays that appeared in Jewish journals and periodicals as well as literature, mostly popular, published by Jewish publishing houses. Along the way, Miron addresses wider questions of Jewish identity and self-consciousness and the cultural memory of Jewish emancipation during the rise of Fascism.

Miron's examination of the range of Jewish responses to the waning of emancipation will contribute to the discourse on politics of representation of the past in each of the three countries and also draw attention to the internal diversity and political divisions within each. Scholars of Jewish and European history will benefit from the careful research in this volume.
About the Author
Guy Miron is associate professor for Jewish history at the Schechter Institute of Jewish Studies in Jerusalem. He is also the author of German Jews in Israel-Memories and Past Images and the chief editor of The Yad Vashem Encyclopedia of the Ghettos during the Holocaust.