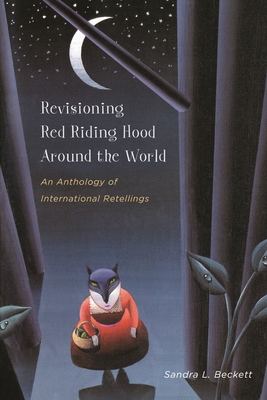 Revisioning Red Riding Hood Around the World (Paperback)
An Anthology of International Retellings (Series in Fairy-Tale Studies)
Wayne State University Press, 9780814334799, 401pp.
Publication Date: November 1, 2013
* Individual store prices may vary.
Description
Across various time periods, audiences, aesthetics, and cultural landscapes, Little Red Riding Hood is a universal icon, and her story is one of the world's most retold tales. In Revisioning Red Riding Hood Around the World: An Anthology of International Retellings, Sandra L. Beckett presents over fifty notable modern retellings, only two of which have appeared previously in English. The tales include works published in twenty-four countries and sixteen languages, in texts that span more than a century, but with the majority written in the last fifty years. They include retellings for children, adolescents, and adults, as well as crossover works intended for an audience of all ages.
The tales in this volume progress from works that recast the story of Little Red Riding Hood from traditional perspectives through more playful versions to more unconventional approaches. Seven sections are arranged thematically: Cautionary Tales for Modern Riding Hoods, Contemporary Riding Hoods Come of Age, Playing with the Story of Red Riding Hood and the Wolf, Rehabilitating the Wolf, The Wolf's Story, The Wolf Within, and Running with the Wolves. Beckett provides an interpretative introduction to each text and insightful information on its author and/or illustrator. A variety of genres are represented, including fairy tale, short story, novella, novel, poetry, illustrated books, and picture books. More than 90 illustrations, both color plates and black-and-white images, reveal further narrative layers of meaning.
The number and diversity of retellings in Revisioning Red Riding Hood demonstrate the tale's remarkable versatility and its exceptional status in the collective unconscious and in literary culture, even beyond the confines of the Western world. This unique anthology contributes to cross-cultural exchange and facilitates comparative study of the tale for readers interested in fairy-tale studies, cultural studies, and literary history.
About the Author
Sandra L. Beckett is professor of French at Brock University. She is the author of Red Riding Hood for All Ages: A Fairy-Tale Icon in Cross-Cultural Contexts (Wayne State University Press, 2008), Crossover Picturebooks: A Genre for All Ages, Crossover Fiction: Global and Historical Perspectives, Recycling Red Riding Hood, and De grands romanciers ?crivent pour les enfants, among others. She has also edited several books, including Beyond Babar: The European Tradition in Children's Literature, Transcending Boundaries: Writing for a Dual Audience of Children and Adults, and Reflections of Change: Children's Literature Since 1945.