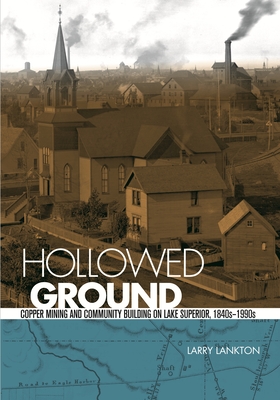 Hollowed Ground (Paperback)
Copper Mining and Community Building on Lake Superior, 1840s-1990s (Great Lakes Books)
Wayne State University Press, 9780814334904, 375pp.
Publication Date: May 15, 2010
Other Editions of This Title:
Hardcover (5/15/2010)
* Individual store prices may vary.
Description
In Hollowed Ground, author Larry Lankton tells the story of two copper industries on Lake Superior-native copper mining, which produced about 11 billion pounds of the metal from the 1840s until the late 1960s, and copper sulfide mining, which began in the 1950s and produced another 4.4 billion pounds of copper through the 1990s. In addition to documenting companies and their mines, mills, and smelters, Hollowed Ground is also a community study. It examines the region's population and ethnic mix, which was a direct result of the mining industry, and the companies' paternalistic involvement in community building.
While this book covers the history of the entire Lake Superior mining industry, it particularly focuses on the three biggest, most important, and longest-lived companies: Calumet & Hecla, Copper Range, and Quincy. Lankton shows the extent of the companies' influence over their mining locations, as they constructed the houses and neighborhoods of their company towns, set the course of local schools, saw that churches got land to build on, encouraged the growth of commercial villages on the margin of a mine, and even provided pasturage for workers' milk cows and space for vegetable gardens. Lankton also traces the interconnected fortunes of the mining communities and their companies through times of bustling economic growth and periods of decline and closure.
Hollowed Ground presents a wealth of images from Upper Michigan's mining towns, reflecting a century and a half of unique community and industrial history. Local historians, industrial historians, and anyone interested in the history of Michigan's Upper Peninsula will appreciate this informative volume.
About the Author
Larry Lankton is professor of history at Michigan Technological University and author of Cradle to Grave: Life, Work, and Death at the Lake Superior Copper and Beyond the Boundaries: Life and Landscape at the Lake Superior Copper Mines.