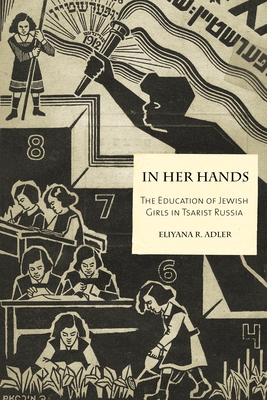 In Her Hands (Hardcover)
The Education of Jewish Girls in Tsarist Russia
Wayne State University Press, 9780814334928, 196pp.
Publication Date: December 8, 2010
* Individual store prices may vary.
Description
Though over one hundred private schools for Jewish girls thrived in the areas of Jewish settlement in the Russian empire between 1831 and 1881, their story has been largely overlooked in the scholarship of Jewish educational history. In Her Hands: The Education of Girls in Tsarist Russia restores these schools to their rightful place of prominence in training thousands of Jewish girls in secular and Judaic subjects and also paving the way for the modern schools that followed them. Through extensive archival research, author Eliyana R. Adler examines the schools' curriculum, teachers, financing, students, and educational innovation and demonstrates how each of these aspects evolved over time.

The first section of this volume follows the emergence and development of the new private schools for Jewish girls in the mid-1800s, beginning with the historical circumstances that enabled their creation, and detailing the staffing, financing, and academics in the schools. Adler dispels the myth that all education in Russia was reserved for boys by showing that a dedicated group of educators and administrators worked to provide new opportunities for a diverse group of Jewish girls. In the second section, Adler looks at the interactions between these new educational institutions and their communities, including how the schools responded to changes taking place around them and how they in turn influenced their environment. Adler consults several major archives, including those of the former Russian Ministry of Education, along with contemporary periodicals, educational materials, and personal memoirs to provide a remarkably complete picture of education for Jewish girls in Russia in the mid- to late nineteenth century.

In telling the story of Russia's private schools for Jewish girls, Adler argues that these schools were crucibles of educational experimentation that merit serious examination. Scholars of Jewish history, educational history, and womens' studies will enjoy this pathbreaking study.
About the Author
Eliyana R. Adler is visiting assistant professor at the University of Maryland, College Park. She is the co-editor of Jewish Literature and History: An Interdisciplinary Conversation (University Press of Maryland, 2008) and the author of articles relating to Jewish life in Eastern Europe and the history of Jewish education.