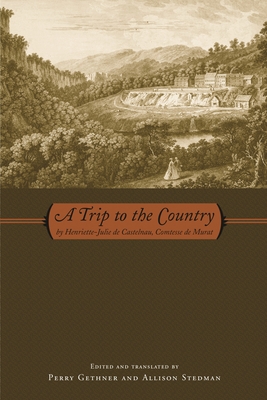 A Trip to the Country (Series in Fairy-Tale Studies) (Paperback)
Wayne State University Press, 9780814335031, 144pp.
Publication Date: September 15, 2011
* Individual store prices may vary.
Description
Popular with the worldly aristocracy, late seventeenth-century experimental novels like the Countess de Murat's Voyage de campagne (A Trip to the Country) were published in small format, widely circulated, and reprinted more frequently than any other type of fiction both in France and abroad. Murat's hybrid work, built around a humorous frame narrative, details a trip to a pristine country estate taken by seven Parisian aristocrats and contains interpolated examples of the period's most popular literary forms--including seven ghost stories, seven autobiographical anecdotes, one literary fairy tale, one rondeau, two gallant poems, two love letters, and eleven proverb comedies.

In this translation of A Trip to the Country, editors Perry Gethner and Allison Stedman present the entire work in the English language for the first time. The editors follow the original 1699 edition as closely as possible to preserve the syntax, word choice, and other lively, readable qualities that were appreciated by the novel's first readers. Modern readers will value the editors' extensive footnotes to the text that offer additional definitions, historical referents, and notes on form and structure. An extensive introduction by Allison Stedman also draws connections between the late seventeenth-century experimental novel and the rise of the literary fairy-tale genre in France to provide a valuable context for students and scholars of the field.

Gethner and Stedman offer an accessible and informative translation of A Trip to the Country that will appeal to students and teachers of fairy-tale studies and those interested in the history of French literature.
About the Author
Perry Gethner is Norris Professor of French and head of the Department of Foreign Languages and Literatures at Oklahoma State University. He has published numerous articles dealing with early modern French drama and baroque opera, in addition to critical editions and translations of plays, including an edited, two-volume anthology of works by French women playwrights. He is co-editor of a forthcoming five-volume anthology also devoted to women playwrights.Allison Stedman is associate professor of French at the University of North Carolina at Charlotte. She has published numerous articles on early modern French literary portraits, psalm paraphrases, novels, and fairy tales, as well as on pedagogical strategies for teaching French and Italian literature and culture at the university level. She is the author of Rococo Fiction in the Age of Louis XIV (1650-1715): Seditious Frivolity.