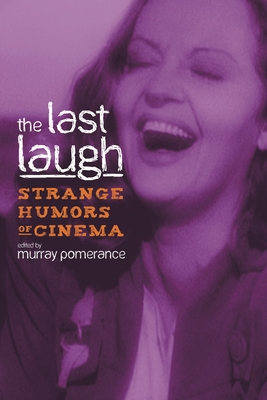 The Last Laugh (Paperback)
Strange Humors of Cinema (Contemporary Approaches to Film and Media)
Wayne State University Press, 9780814335130, 244pp.
Publication Date: May 15, 2013
* Individual store prices may vary.
Description
For critics, fans, and scholars of drama and film, the laugh has traditionally been tied to comedy, indicating and expressing mirth, witty relief, joyous celebration, or arch and sarcastic parody. But strange, dark laughter that illuminates non-comedic, unfunny situations gets much less attention. In The Last Laugh: Strange Humors of Cinema, editor Murray Pomerance has assembled contributions from thirteen estimable scholars that address the strange laughter of cinema from varying intellectual perspectives and a wide range of sources.
Contributors consider unusual humors in a variety of filmic settings, from the chilling unheard laughter of silent cinema to the ribald and mortal laughter in the work of Orson Welles; the vagaries and nuances of laughter in film noir to the eccentric laughter of science fiction. Essays also look at laughter in many different applications, from the subtle, underlying wit of the thriller
Don't Look Now
to the deeply provocative humor of experimental film and the unpredictable, shadowy, insightful, and stunning laughter in such films as
Black Swan, Henry Fool, The Treasure of the Sierra Madre, Kiss of Death, The Dark Knight
, and
A.I. Artificial Intelligence
. The accessibly written, unique essays in
The Last Laugh
bring a new understanding to the delicate balance, unsettled tensions, and fragility of human affairs depicted by strange humor in film. For scholars of film and readers who love cinema, these essays will be rich and playful inspiration.
About the Author
Murray Pomerance is a Canadian film scholar, author, and professor who teaches in the Department of Sociology at Ryerson University and in the joint program in communication and culture at Ryerson University and York University. He has written extensively on film, cinematic experience, and performance. Most recently he authored The Eyes Have It: Cinema and the Reality Effect, Tomorrow, Alfred Hitchcock's America, Michelangelo Red Antonioni Blue: Eight Reflections on Cinema and Edith Valmaine and is a co-editor of Hollywood's Chosen People: The Jewish Experience in American Cinema (Wayne State University Press, 2012). Pomerance is the editor and co-editor of more than a dozen books and the editor of several book series on film at Rutgers University Press and at the State University of New York Press.