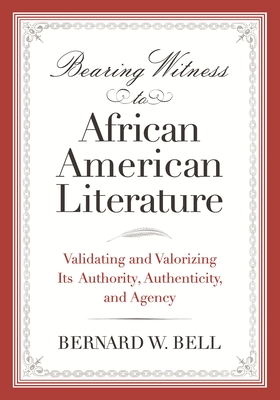 Bearing Witness to African American Literature (Paperback)
Validating and Valorizing Its Authority, Authenticity, and Agency (African American Life)
Wayne State University Press, 9780814337141, 341pp.
Publication Date: May 15, 2012
* Individual store prices may vary.
Description
Bearing Witness to African American Literature: Validating and Valorizing Its Authority, Authenticity, and Agency collects twenty-three of Bernard W. Bell's lectures and essays that were first presented between 1968 and 2008. From his role in the culture wars as a graduate student activist in the Black Studies Movement to his work in the transcultural Globalization Movement as an international scholar and Fulbright cultural ambassador in Spain, Portugal, and China, Bell's long and inspiring journey traces the modern institutional origins and the contemporary challengers of African American literary studies.

This volume is made up of five sections, including chapters on W. E. B. DuBois's theory and trope of double consciousness, an original theory of residually oral forms for reading the African American novel, an argument for an African Americentric vernacular and literary tradition, and a deconstruction of the myths of the American melting pot and literary mainstream. Bell considers texts by contemporary writers like Toni Morrison, Alice Walker, William Styron, James Baldwin, and Jean Toomer, as well as works by Mark Twain, Frederick Douglas, and William Faulkner, In a style that ranges from lyricism to the classic jeremiad, Bell emphasizes that his work bears the imprint of many major influences, including his mentor, poet and scholar Sterling A. Brown, and W. E. B. DuBois. Taken together, the chapters demonstrate Bell's central place as a revisionist African American literary and cultural theorist, historian, and critic.

Bearing Witness to African American Literature will be an invaluable introduction to major issues in the African American literary tradition for scholars of American, African American, and cultural studies.
About the Author
Bernard W. Bell is the author, editor, and co-editor of eight monographs and books, including The Contemporary African American Novel: Its Folk Roots and Literary Branches, which has received four national awards, including an American Book Award. He is an award-winning Liberal Arts Research Professor of American and African American Literature, Language and Culture at Pennsylvania State University. Bell was a co-founder in 1969 of the W. E. B. Du Bois Department of Afro-American Sudies, University of Massachusetts, and chairman in 1970 of the interim Five College Afro-American Studies Executive Committee (a consortium of departments at Amherst, Smith, Mt. Holyoke, and Hampshire Solleges with the University of Massachusetts). He has received five Fulbright awards, as well as an exchange professorship at the University of Freiburg in Germany.