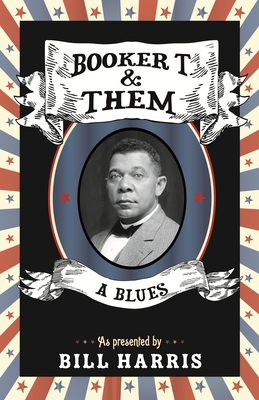 Booker T & Them
A Blues (Made in Michigan Writers)
Paperback

* Individual store prices may vary.
Description
The early 1900s was a dangerous time for African American men, whether famous or nameless. Punishment from any perceived transgression against the Jim Crow power structure came swiftly in legislative, emotional, or physical form, and it could well take one's life. Despite this reality, however, a number of African Americans still lifted their heads, straightened their spines, and spoke and acted against the mainstream. In Booker T. & Them: A Blues, poet and playwright Bill Harris examines what he calls "the age of Booker T." (1900-1915), when America began flexing its imperialistic muscles, D. W. Griffith's Birth of a Nation was released, and Thomas Edison's many technological innovations set the tone for the United States to be viewed as the nation of the century.
In the historical and imaginative narrative of this "bio-poem," Harris considers several African Americans who sought to be men that mattered in a racist America, including Booker T. Washington, W. E. B. DuBois, William Monroe Trotter, George Washington Carver, and Jack Johnson, as he traces their effects on history and each other. In tandem, he visits white historical figures like Thomas Edison, Theodore Roosevelt, and D. W. Griffiths as well as some invented characters like students and professors at the Tuskegee Institute. Throughout, Harris shows that the rapid pace of early twentieth-century American change, progress, and science coincided with persistent and reinvented forms of white supremacy. Harris's exciting structure offers varied rhythms and a blues sensibility that showcases his witty lines and vivid imagery.
As a follow-up to his 2009 work Birth of a Notion; Or, the Half Ain't Never Been Told, this book extends Harris's critical and experimental examination of American history by presenting evidence for a greater understanding of these men and the cultural forces that shaped them. Readers interested in African American studies, American culture, and contemporary poetry will appreciate the unique perspective of Booker T. & Them: A Blues.
Wayne State University Press, 9780814337165, 264pp.
Publication Date: February 15, 2012
About the Author
Bill Harris retired as professor of English at Wayne State University in 2011 and is author of numerous plays, including Robert Johnson Trick the Devil, Stories About the Old Days, Riffs, and Coda. He is the author of three books of poetry, Birth of a Notion; Or, the Half Ain't Never Been Told (Wayne State University Press, 2009), The Ringmaster's Array, and Yardbird Suite: Side One, which won the 1997 Naomi Long Madgett Poetry Award. Harris was named the 2011 Kresge Eminent Artist by the Kresge Foundation in recognition of his professional accomplishments and community engagement.
or
Not Currently Available for Direct Purchase