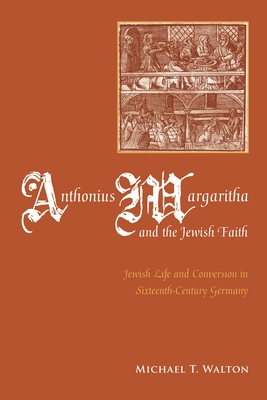 Anthonius Margaritha and the Jewish Faith (Hardcover)
Jewish Life and Conversion in Sixteenth-Century Germany (Non-Series)
Wayne State University Press, 9780814338001, 264pp.
Publication Date: October 1, 2012
* Individual store prices may vary.
Description
Born in the 1490s, Anthonius Margaritha was the grandson, son, and brother of noted rabbis and was perhaps the best-known Jew of his generation in Germany to convert to Christianity. When he became a Christian in 1521, he began a series of writings that were built on his Jewish life and learning but were intended to reveal the defects of his former faith. These writings, including a translation of the Hebrew prayer book into German and a refutation of the faith, The Entire Jewish Faith (Der gantz J disch glaub), are well known to scholars, but Margaritha himself has been studied largely as an ethnographic type. In Anthonius Margaritha and the Jewish Faith: Jewish Life and Conversion in Sixteenth-Century Germany, author Michael T. Walton looks more closely at Margaritha's life with the help of archival research and Margaritha's own writings.

To present a full picture of Margaritha, Walton examines his life both before and after conversion. Walton details Margaritha's family history and Jewish life in a Christian Germany, including social customs and worship practices. After conversion, Walton examines Margaritha's time spent as a Hebrew teacher, polemicist, and paterfamilias and analyzes Margaritha's various works for their ethnographic and scholarly-polemical content. One thread that runs through Margaritha's life and writings, detailed here, is the importance to him of his debate with noted rabbi Joseph of Rosheim. Margaritha lost the debate and was imprisoned, but he continually referred to the issues raised and defended the correctness of his position in his treatises.

Ultimately, this biography reveals Margaritha as a man who converted out of genuine conviction, but whose life thereafter must have been much different from what he anticipated. Scholars of Jewish and Christian history as well as those interested in German history, Hebrew pedagogy, and religious conversion will appreciate this thorough study.
About the Author
Michael T. Walton, PhD, is an early modern historian who has published numerous book reviews, articles, and book chapters. He is the author of Genesis and the Chemical Philosophy: True Christian Science in the Sixteenth and Seventeenth Centuries and has edited, with Allen G. Debus, Reading the Book of Nature: The Other Side of the Scientific Revolution.