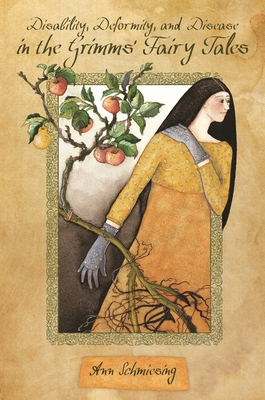 Disability, Deformity, and Disease in the Grimms' Fairy Tales (Fairy-Tale Studies) (Paperback)
Wayne State University Press, 9780814338414, 240pp.
Publication Date: November 3, 2014
* Individual store prices may vary.
Description
Although dozens of disabled characters appear in the Grimms' Children's and Household Tales, the issue of disability in their collection has remained largely unexplored by scholars. In Disability, Deformity, and Disease in the Grimms' Fairy Tales, author Ann Schmiesing analyzes various representations of disability in the tales and also shows how the Grimms' editing (or "prostheticizing") of their tales over seven editions significantly influenced portrayals of disability and related manifestations of physical difference, both in many individual tales and in the collection overall.
Schmiesing begins by exploring instabilities in the Grimms' conception of the fairy tale as a healthy and robust genre that has nevertheless been damaged and needs to be restored to its organic state. In chapter 2, she extends this argument by examining tales such as "The Three Army Surgeons" and "Brother Lustig" that problematize, against the backdrop of war, characters' efforts to restore wholeness to the impaired or diseased body. She goes on in chapter 3 to study the gendering of disability in the Grimms' tales with particular emphasis on the Grimms' editing of "The Maiden Without Hands" and "The Frog King or Iron Henry." In chapter 4, Schmiesing considers contradictions in portrayals of characters such as Hans My Hedgehog and the Donkey as both cripple and "supercripple"-a figure who miraculously "overcomes" his disability and triumphs despite social stigma. Schmiesing examines in chapter 5 tales in which no magical erasure of disability occurs, but in which protagonists are depicted figuratively "overcoming" disability by means of other personal abilities or traits.
The Grimms described the fairy tale using metaphors of able-bodiedness and wholeness and espoused a Romantic view of their editorial process as organic restoration. Disability, Deformity, and Disease in the Grimms' Fairy Tales shows, however, the extent to which the Grimms' personal experience of disability and illness impacted the tales and reveals the many disability-related amendments that exist within them. Readers interested in fairy-tales studies and disability studies will appreciate this careful reading of the Grimms' tales.
About the Author
Ann Schmiesing is associate professor of German and Scandinavian literature at the University of Colorado at Boulder. She is the author of Norway's Christiania Theatre, 1827-1867: From Danish Showhouse to National Stage.