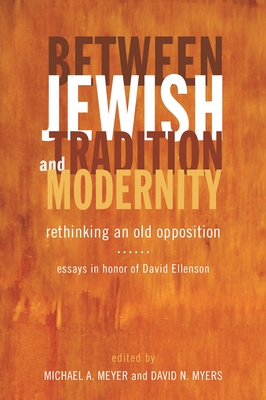 Between Jewish Tradition and Modernity (Hardcover)
Rethinking an Old Opposition: Essays in Honor of David Ellenson
Wayne State University Press, 9780814338599, 360pp.
Publication Date: October 20, 2014
* Individual store prices may vary.
Description
Although the ideas of "tradition" and "modernity" may seem to be directly opposed, David Ellenson, a leading contemporary scholar of modern Jewish thought, understood that these concepts can also enjoy a more fluid relationship. In honor of Ellenson, editors Michael A. Meyer and David N. Myers have gathered contributors for Between Jewish Tradition and Modernity: Rethinking an Old Oppositionto examine the permutations and adaptations of these intertwined forms of Jewish expression. Contributions draw from a range of disciplines and scholarly interests and vary in subject from the theological to the liturgical, sociological, and literary. The geographic and historical focus of the volume is on the United States and the State of Israel, both of which have been major sites of inquiry in Ellenson's work.

In twenty-one essays, contributors demonstrate that modernity did not simply replace tradition in Judaism, but rather entered into a variety of relationships with it: adopting or adapting certain elements, repossessing rituals that had once been abandoned, or struggling with its continuing influence. In four parts--Law, Ritual, Thought, and Culture--contributors explore a variety of subjects, including the role of reform in Israeli Orthodoxy, traditions of twentieth-century bar/bat mitzvah, end-of-life ethics, tensions between Zionism and American Jewry, and the rise of a 1960s New York Jewish counterculture. An introductory essay also presents an appreciation of Ellenson's scholarly contribution.

Bringing together leading Jewish historians, anthropologists, sociologists, philosophers and liturgists, Between Jewish Tradition and Modernity offers a collective view of a historically and culturally significant issue that will be of interest to Jewish scholars of many discipline.
About the Author
Michael A. Meyer is Adolph S. Ochs Professor of Jewish History Emeritus at Hebrew Union College-Jewish Institute of Religion in Cincinnati, Ohio. He is the author or editor of a dozen books and has published more than two hundred scholarly articles. David N. Myers is professor of Jewish history and Robert N. Burr Chair of the UCLA History Department. He is the author or editor of ten books in the field of modern Jewish history.