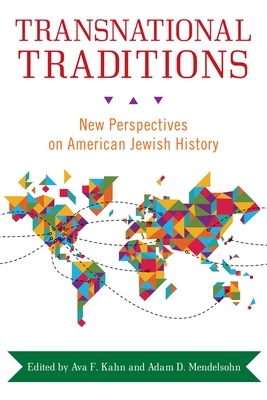 Transnational Traditions (Paperback)
New Perspectives on American Jewish History
Wayne State University Press, 9780814338612, 304pp.
Publication Date: November 3, 2014
* Individual store prices may vary.
Description
Despite being the archetypal diasporic people, modern Jews have most often been studied as citizens and subjects of single nation states and empires-as American, Polish, Russian, or German Jews. This national approach is especially striking considering the renewed interest among scholars in global and transnational influences on the modern world. Editors Ava F. Kahn and Adam D. Mendelsohn offer a new approach in Transnational Traditions: New Perspectives on American Jewish History as contributors use transnational and comparative methodologies to place American Jewry into a broader context of cultural, commercial, and social exchange with Jews in Europe, the Middle East, Asia, Australia, New Zealand, and South America.
In examining patterns that cross national boundaries, contributors offer new ways of understanding the development of American Jewish life. The diverse chapters, written by leading scholars, reflect on episodes of continuity and contact between Jews in America and world Jewry over the past two centuries. Individual case studies cover a range of themes including migration, international trade, finance, cultural interchange, acculturation, and memory and commemoration. Overall, this volume will expose readers to the variety and complexity of transnational experiences and encounters within American Jewish history.
Accessible to students and scholars alike, Transnational Traditions will be appropriate as a classroom text for courses on modern Jewish, ethnic, immigration, world, and American history. No other single work in the field systematically focuses on this subject, nor covers the range of themes explored in this volume.
About the Author
Ava F. Kahn is a former research associate at the Western Jewish History Center of the Magnes Museum and fellow at the California Studies Center, Berkeley. Her publications include Jewish Voices of the California Gold Rush: A Documentary History 1849-1880 (Wayne State University Press, 2002), Jewish Life in the American West, California Jews, co-edited with Marc Dollinger, and Jews of the Pacific Coast: Reinventing Community on America's Edge, co-authored with Ellen Eisenberg and William Toll. At present she is working on a documentary film on Jewish reinvention in post-1960s America and researching the role of American Jews in the military and in the home front during WWI. Adam D. Mendelsohn is associate professor of Jewish studies and director of the Pearlstine/Lipov Center for Southern Jewish Culture at the College of Charleston. He is the author of The Rag Race: How Jews Sewed their Way to Success in America and British Empire (New York University Press, 2014) and editor, with Jonathan D. Sarna, of Jews and the Civil War: A Reader.