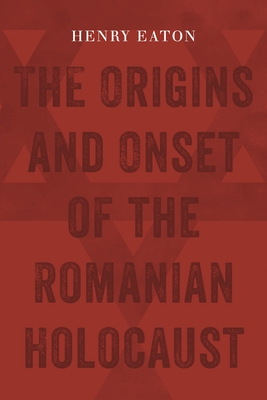 The Origins and Onset of the Romanian Holocaust (Paperback)
Wayne State University Press, 9780814338728, 192pp.
Publication Date: May 15, 2013
* Individual store prices may vary.
Description
The first mass killings of the Romanian Holocaust in late June to early July 1941 brutally claimed thousands of victims and marked the beginning of the government's plan to "cleanse the land" of Jews. Moreover, of all the Third Reich's allies, only Romania undertook its genocide campaign without the intervention of Himmler's SS. In The Origins and Onset of the Romanian Holocaust, author Henry Eaton traces the historical path to this tragedy by examining both Romania's antisemitic history and looking at the initial mass killings in detail.
First, Eaton traces the roots of the Romanian government's decision to exterminate Jews in Romania and in its annexed areas through its long and often violent antisemitic past. While the decision to target the Jews might have been ordered by dictator Ion Antonescu and his top civil and military officials, Eaton argues that it found its basis in an entrenched cultural abuse of Jews dating back to the nineteenth century. In the second section, Eaton analyzes the Romanian government's first killing operations: the execution of 311 Jewish men, women, and children at St?nca Rosnovanu by men of the Romanian 6th Cavalry Regiment; the great pogrom in the city of Iasi triggered by agents of the government's intelligence service; and the two "death trains" in which some 2,700 pogrom survivors perished in freight cars turned into ovens by the summer heat. In the final chapters, Eaton examines the victims and perpetrators in detail and addresses the possible German connections to the killings.
The Origins and Onset of the Romanian Holocaust
persuasively challenges the idea that Romania's adoption of murder as state policy was due to outside pressure. Eaton's volume will be illuminating reading for Holocaust studies scholars and readers interested in World War II history.
About the Author
Henry Eaton is associate professor of history (ret.) at the University of North Texas. He has published a number of essays on Russian history and Romania. As a Fulbright fellow in Romania in 1990-91 he interviewed a number of survivors of the Iasi pogrom of June 1941.