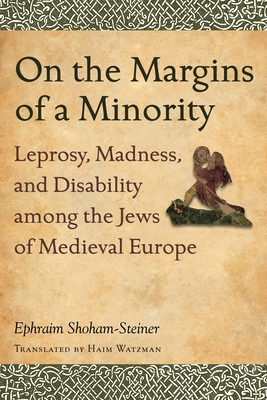 On the Margins of a Minority (Hardcover)
Leprosy, Madness, and Disability Among the Jews of Medieval Europe
Wayne State University Press, 9780814339312, 275pp.
Publication Date: June 1, 2014
* Individual store prices may vary.
Description
In medieval Europe, the much larger Christian population regarded Jews as their inferiors, but how did both Christians and Jews feel about those who were marginalized within the Ashkenazi Jewish community? In On the Margins of a Minority: Leprosy, Madness, and Disability among the Jews of Medieval Europe, author Ephraim Shoham-Steiner explores the life and plight of three of these groups. Shoham-Steiner draws on a wide variety of late-tenth- to fifteenth-century material from both internal (Jewish) as well as external (non-Jewish) sources to reconstruct social attitudes toward these "others," including lepers, madmen, and the physically impaired. Shoham-Steiner considers how the outsiders were treated by their respective communities, while also maintaining a delicate balance with the surrounding non-Jewish community.

On the Margins of a Minority is structured in three pairs of chapters addressing each of these three marginal groups. The first pair deals with the moral attitude toward leprosy and its sufferers; the second with the manifestations of madness and its causes as seen by medieval men and women, and the effect these signs had on the treatment of the insane; the third with impaired and disabled individuals, including those with limited mobility, manual dysfunction, deafness, and blindness. Shoham-Steiner also addresses questions of the religious meaning of impairment in light of religious conceptions of the ideal body. He concludes with a bibliography of sources and studies that informed the research, including useful midrashic, exegetical, homiletic, ethical, and guidance literature, and texts from responsa and halakhic rulings.

Understanding and exploring attitudes toward groups and individuals considered "other" by mainstream society provides us with information about marginalized groups, as well as the inner social mechanisms at work in a larger society. On the Margins of a Minority will appeal to scholars of Jewish medieval history as well as readers interested in the growing field of disability studies.
About the Author
Ephraim Shoham-Steiner is a senior lecturer in the department of Jewish history at Ben-Gurion University of the Negev in Beer-Shevah, Israel. He teaches medieval Jewish history and is a member of the scientific committee of the Center for the Study of Conversion and Inter-Religious Encounters and Israeli Center of Research Excellence (I-CORE) at Ben-Gurion University.