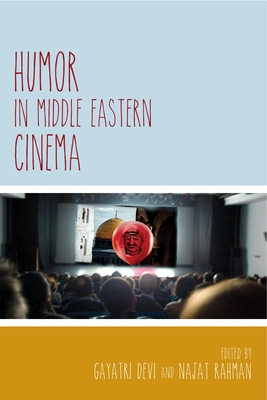 Humor in Middle Eastern Cinema (Contemporary Approaches to Film and Media) (Paperback)
Wayne State University Press, 9780814339374, 264pp.
Publication Date: December 1, 2014
* Individual store prices may vary.
Description
While Middle Eastern culture does not tend to be associated with laughter and levity in the global imagination, humor--often satirical--has long been a staple of mainstream Arabic film. In Humor in Middle Eastern Cinema, editors Gayatri Devi and Najat Rahman shed light on this tradition, as well as humor and laughter motivated by other intent--including parody, irony, the absurd, burlesque, and dark comedy. Contributors trace the proliferation of humor in contemporary Middle Eastern cinema in the works of individual directors and from the perspectives of genre, national cinemas, and diasporic cinema.

Humor in Middle Eastern Cinema explores what humor theorists have identified as an "emancipatory," "liberatory," even "revolutionary" function to humor. Among the questions contributors ask are: How does Middle Eastern cinema and media highlight the stakes and place of humor in art and in life? What is its relation to the political? Can humor in cinematic art be emancipatory? What are its limits for its intervention or transformation? Contributors examine the region's masterful auteurs, such as Abbas Kiarostami, Youssef Chahine, and Elia Suleiman and cover a range of cinematic settings, including Egypt, Iran, Israel, Lebanon, Palestine, Syria, Tunisia, and Turkey. They also trace diasporic issues in the distinctive cinema of India and Pakistan.

This insightful collection will introduce readers to a variety of contemporary Middle Eastern cinema that has attracted little critical notice. Scholars of cinema and media studies as well as Middle Eastern cultural history will appreciate this introduction to a complex and fascinating cinema.
About the Author
Gayatri Devi is assistant professor of English at Lock Haven University, Pennsylvania. Najat Rahman is associate professor of comparative literature at the University of Montreal. She is author of Literary Disinheritance: The Writing of Home in the Work of Mahmoud Darwish and Assia Djebar. She is co-editor of Mahmoud Darwish, Exile's Poet: Critical Essays.