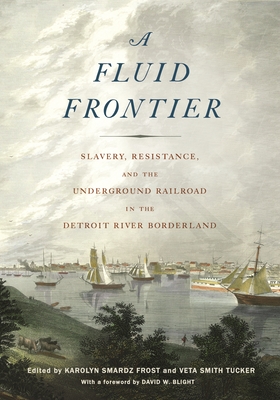 Fluid Frontier (Paperback)
Slavery, Resistance, and the Underground Railroad in the Detroit River Borderland (Great Lakes Books)
Wayne State University Press, 9780814339596, 360pp.
Publication Date: February 1, 2016
* Individual store prices may vary.
Description
As the major gateway into British North America for travelers on the Underground Railroad, the U.S./Canadian border along the Detroit River was a boundary that determined whether thousands of enslaved people of African descent could reach a place of freedom and opportunity. In A Fluid Frontier: Slavery, Resistance, and the Underground Railroad in the Detroit River Borderland, editors Karolyn Smardz Frost and Veta Smith Tucker explore the experiences of the area's freedom-seekers and advocates, both black and white, against the backdrop of the social forces--legal, political, social, religious, and economic--that shaped the meaning of race and management of slavery on both sides of the river.

In five parts, contributors trace the beginnings of and necessity for transnational abolitionist activism in this unique borderland, and the legal and political pressures, coupled with African Americans' irrepressible quest for freedom, that led to the growth of the Underground Railroad. A Fluid Frontier details the founding of African Canadian settlements in the Detroit River region in the first decades of the nineteenth century with a focus on the strong and enduring bonds of family, faith, and resistance that formed between communities in Michigan and what is now Ontario. New scholarship offers unique insight into the early history of slavery and resistance in the region and describes individual journeys: the perilous crossing into Canada of sixteen-year-old Caroline Quarlls, who was enslaved by her own aunt and uncle; the escape of the Crosswhite family, who eluded slave catchers in Marshall, Michigan, with the help of others in the town; and the international crisis sparked by the escape of Lucie and Thornton Blackburn and others.

With a foreword by David W. Blight, A Fluid Frontier is a truly bi-national collection, with contributors and editors evenly split between specialists in Canadian and American history, representing both community and academic historians. Scholars of the Underground Railroad as well as those in borderland studies will appreciate the interdisciplinary mix and unique contributions of this volume.
About the Author
Veta Smith Tucker is a literary and public historian and an educator. She taught African American literature and African American Studies at Grand Valley State University in Allendale, Michigan for two decades and launched the Kutsche Office of Local History at the university in 2009. Her major published works include articles on enslaved black women, on forgotten nineteenth-century African American author Julia Collins, on historical fiction by contemporary African American women, and A Twenty-First Century History of the 1847 Kentucky Raid in Cass County, Michigan (2010).Karolyn Smardz Frost is an archaeologist, historian, educator, and author specializing in African American/Canadian transnationalism. She is Senior Research Fellow for the Harriet Tubman Institute, York University, Toronto, and a Harrison McCain Visiting Professor at Nova Scotia's Acadia University. Her biography of fugitive slaves Thornton and Lucie Blackburn, I've Got a Home in Glory Land: A Lost Tale of the Underground Railroad, won the Governor General's Award for Non-Fiction, Canada's highest literary honor. Her forthcoming volume is Steal Away Home: Letters to a Fugitive Slave.