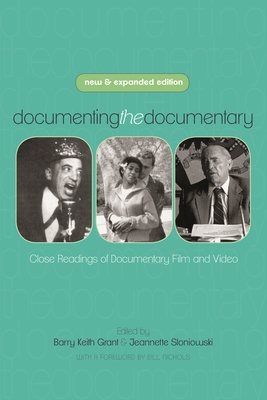 Documenting the Documentary (Paperback)
Close Readings of Documentary Film and Video (Contemporary Approaches to Film and Media)
Wayne State University Press, 9780814339718, 570pp.
Publication Date: December 16, 2013
Other Editions of This Title:
Paperback (9/1/1998)
* Individual store prices may vary.
Description
Originally released in 1998, Documenting the Documentary responded to a scholarly landscape in which documentary film was largely understudied and undervalued aesthetically, and analyzed instead through issues of ethics, politics, and film technology. Editors Barry Keith Grant and Jeannette Sloniowski addressed this gap by presenting a useful survey of the artistic and persuasive aspects of documentary film from a range of critical viewpoints. This new edition of Documenting the Documentary adds five new essays on more recent films in addition to the text of the first edition.
Thirty-one film and media scholars, many of them among the most important voices in the area of documentary film, cover the significant developments in the history of documentary filmmaking from
Nanook of the North
(1922), the first commercially released documentary feature, to contemporary independent film and video productions like Werner Herzog's
Grizzly Man
(2005) and the controversial
Borat
(2006). The works discussed also include representative examples of many important national and stylistic movements and various production contexts, from mainstream to avant-garde. In all, this volume offers a series of rich and revealing analyses of those "regimes of truth" that still fascinate filmgoers as much today as they did at the very beginnings of film history. As documentary film and visual media become increasingly important ways for audiences to process news and information,
Documenting the Documentary
continues to be a vital resource to understanding the genre. Students and teachers of film studies and fans of documentary film will appreciate this expanded classic volume.
About the Author
Barry Keith Grant is professor of film studies in the Department of Communication, Popular Culture and Film at Brock University in Ontario, Canada. A Fellow of the Royal Society of Canada, he is the author or editor of numerous books, including Voyages of Discovery: The Cinema of Frederick Wiseman, 100 Documentary Films (with Jim Hillier) and Shadows of Doubt: Negotiations of Masculinity in American Genre Films (Wayne State University Press, 2011). Jeannette Sloniowski is associate professor in the Department of Communication, Popular Culture and Film and the graduate program in popular culture at Brock University. Her publications include Canadian Communications: Issues in Contemporary Media and Culture, Detecting Canada: Essays on Canadian Detective Fiction, Candid Eyes: Essays on Canadian Documentaries, and Slippery Pastimes: A Canadian Popular Reader.