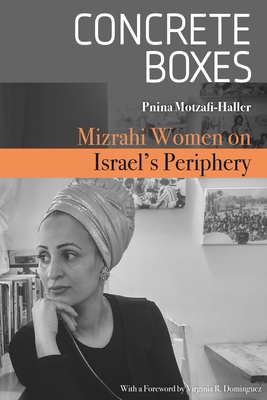 Concrete Boxes (Paperback)
Mizrahi Women on Israel's Periphery
Wayne State University Press, 9780814340592, 360pp.
Publication Date: August 6, 2018
Other Editions of This Title:
Hardcover (8/1/2018)
* Individual store prices may vary.
Description
Concrete Boxes: Mizrahi Women on Israel's Periphery offers a rich depiction of contemporary life in one marginalized development town in the Israeli Negev. Placing the stories of five women at the center, author Pnina Motzafi-Haller depicts a range of creative strategies used by each woman to make a meaningful life within a reality of multiple exclusions. These limitations, Motzafi-Haller argues, create a "concrete box," which, unlike the "glass ceiling" of the liberal feminist discourse, is multi-dimensional and harder to break free from.
As the stories unfold, the reader is introduced to the unique paths developed by each of five women in order to keep their families and community together in the face of the stigmatic and hegemonic narratives of Israelis who seldom set foot in their social and geographic periphery. Motzafi-Haller's ethnography includes the daily struggles of Nurit, a single mother with a drug-addicted partner, in her attempt to make ends meet and escape social isolation; Ephrat's investment in an increasingly religious-observant lifestyle; the juggling acts of Rachel, who develops a creative mix of narratives of self, using middle-class rhetoric in reimagining a material reality of continued dependence on the welfare system; the rebellious choices of Esti, who at thirty-five, refuses to marry, have children, or keep a stable job, celebrating against all odds a life of gambling, consumption beyond her means, and a tight and supportive social network; and the life story of Gila, who was born in Yeruham but was able to "escape" it and establish herself in middle-class life as a school principal. Taken together, these intimate narratives ask us to consider both the potential and limitations of post-colonial feminist insights about the manner in which knowledge is produced.
Concrete Boxes offers sustained reflection about Israeli reality rarely documented in scholarly work and a thought-provoking theoretical exploration of the ways in which individual agency encounters social restrictions and how social marginality is reproduced and challenged at the same time.
About the Author
Pnina Motzafi-Haller is an associate professor of anthropology at Ben Gurion University at the Blaustein Institutes for Desert Research. A leading Mizrahi feminist scholar and activist, she has edited key texts of Mizrahi-centered scholarship, including Mizrahim in Israel and Mizrahi Voices. The Hebrew version of Concrete Boxes was adapted into a play produced by the Dimona Theater.