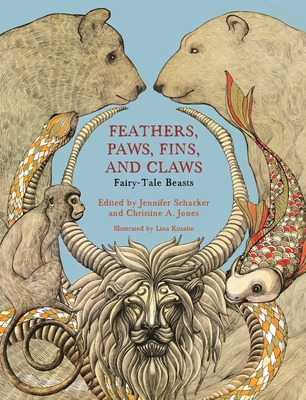 Feathers, Paws, Fins, and Claws (Hardcover)
Fairy-Tale Beasts (Series in Fairy-Tale Studies)
Wayne State University Press, 9780814340691, 136pp.
Publication Date: September 14, 2015
* Individual store prices may vary.
Description
A wide variety of creatures walk, fly, leap, slither, and swim through fairy-tale history. Some marvelous animal characters are deeply inscribed in current popular culture-the beast redeemed by beauty, the wolf in pursuit of little girls and little pigs, the frog prince released from enchantment by a young princess. But like the adventures of many fairy-tale heroes, a curious reader's exploration in the genre can yield surprises, challenges, and unexpected rewards. Feathers, Paws, Fins, and Claws: Fairy-Tale Beasts presents lesser-known tales featuring animals both wild and gentle who appear in imaginative landscapes and enjoy a host of surprising talents. With striking original illustrations by artist Lina Kusaite and helpful introductions by fairy-tale scholars Jennifer Schacker and Christine A. Jones, the offbeat, haunting stories in this collection are rich and surprisingly relevant, demanding creative reading by audiences aged young adult and up.
Schacker and Jones choose stories that represent several centuries and cultural perspectives on how animals think and move. In these ten stories, rats are just as seductive as Little Red Riding Hood's wolf; snakes find human mates; and dancing sheep and well-mannered bears blur the line between human and beast. Stories range in form from literary ballads to tales long enough to be considered short stories, and all are presented as closely as possible to their original print versions, reflecting the use of historical spelling and punctuation. Beasts move between typical animal behavior (a bird seeking to spread its wings and fly or a clever cat artfully catching its prey) and acts that seem much more human than beastly (three fastidious bears keeping a tidy home together or a snake inviting itself to the dinner table). Kusaite's full-color artwork rounds out this collection, drawing imaginatively on a wide range of visual traditions-from Inuit design to the work of the British Arts and Crafts movement.
Together with the short introductions to the tales themselves, the illustrations invite readers to rediscover the fascinating world of animal fairy tales. All readers interested in storytelling, fairy-tale history, and translation will treasure this beautiful collection.
About the Author
Jennifer Schacker is associate professor of English at University of Guelph and author of National Dreams: The Remaking of Fairy Tales in Nineteenth-Century England.Christine A. Jones is associate professor of French at the University of Utah and author of Shapely Bodies: The Image of Porcelain in Eighteenth-Century France. Jones and Schacker are longtime collaborators and co-editors of Marvelous Transformations: An Anthology of Fairy Tales and Contemporary Critical Perspectives. Lina Kusaite is an illustrator, designer, and art/life coach based in Brussels, Belgium. Her work has appeared in a wide range of international publications, computer games, and exhibitions, and was selected for display in Times Square as part of the see.me 2014 "seemetakeover" event. Kusaite's website is www.behance.net/cocooncharacters.