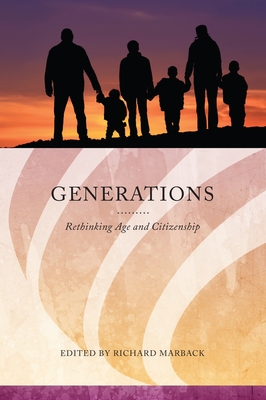 Generations (Paperback)
Rethinking Age and Citizenship
Wayne State University Press, 9780814340806, 368pp.
Publication Date: February 16, 2015
* Individual store prices may vary.
Description
The meaning of citizenship and the way that it is expressed by an individual varies with age, develops over time, and is often learned by interacting with members of other generations. In Generations: Rethinking Age and Citizenship, editor Richard Marback presents contributions that explore this temporal dimension of membership in political communities through a variety of rich disciplinary perspectives. While the role of human time and temporality receive less attention in the interdisciplinary study of citizenship than do spatial dynamics of location and movement, Generations demonstrates that these factors are central to a full understanding of citizenship issues.
Essays in Generations are organized into four sections: Age, Cohort, and Generation; Young Age, Globalization, Migration; Generational Disparities and the Clash of Cultures; and Later Life, Civic Engagement, Disenfranchisement. Contributors visit a range of geographic locations-including the U.S., U.K., Europe, and Africa-and consider the experiences of citizens who are native born, immigrant, and repatriated, in time periods that range from the nineteenth century to the present. Taken together, the diverse contributions in this volume illustrate the ways in which personal experiences of community membership change as we age, and also explore how experiences of civic engagement can and do change from one generation to the next.
Teachers and students of citizenship studies, cultural studies, gerontology, sociology, and political science will enjoy this thought-provoking look at age, aging, and generational differences in relation to the concept and experience of citizenship.
About the Author
Richard Marback is a professor of English at Wayne State University. He is the author of Plato's Dream of Sophistry and Managing Vulnerability: South Africa's Struggle for a Democratic Rhetoric. He is also co-editor of The Hope and the Legacy: The Past, Present, and Future of Students' Right to Their Own Language.