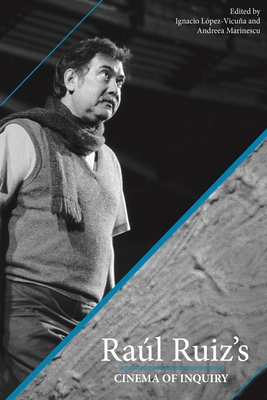 Raul Ruiz's Cinema of Inquiry (Contemporary Approaches to Film and Media) (Paperback)
Wayne State University Press, 9780814341063, 270pp.
Publication Date: December 4, 2017
* Individual store prices may vary.
Description
Most widely known for his filmic productions, Ra?l Ruiz (1941-2011) was a highly prolific, erudite, and innovative artist, whose work is located at the intersection of diverse locations, languages, and aesthetic traditions. Ruiz's eclectic body of work includes over one hundred films (among them features, shorts, television serials, and videos), books on the theory of cinema, genre-defying fiction books, plays, a radio show, and a multimedia installation. Ra?l Ruiz's Cinema of Inquiry posits the unity of Ruiz's body of work and investigates the similarities between his very diverse artistic productions. Ruiz's own concept of "cinema of inquiry" provides the lens through which his films and poetics are examined.
Ruiz's relevance to cinema and the growing interest in his work are due to his legacy as a global filmmaker. Viewers, filmmakers, and film scholars continue to return to his works because his films consistently pose the question of what cinema can be, especially at a time when cinema is increasingly seen as displaced by television and new media. Ruiz expanded the domain of cinema itself, incessantly probing the interstices between cinema and other arts. Editors Ignacio L?pez-Vicu?a and Andreea Marinescu, with six other scholars, explore different aspects of Ruiz's work, with special attention paid to the transnational aspects of Ruiz's films, critical regionalism, and political and aesthetic interventions. Ra?l Ruiz's Cinema of Inquiry includes close readings of important yet understudied films, as well as two extensive previously unpublished interviews with Ruiz.
This comprehensive volume gives voice to a significant filmmaker and artist. Students and scholars of film and media studies will find great value in this collection.
About the Author
Ignacio L?pez-Vicu?a is associate professor of Spanish at the University of Vermont. His areas of expertise include contemporary Latin American literature and cultural studies, representations of urban space, queer theory, and Latin American film. He has published articles on Southern Cone writers and filmmakers, including Roberto Bola?o and Ra?l Ruiz. His work has appeared in such journals as Latin American Research Review, Studies in Hispanic Cinemas, and Journal of Latin American Cultural Studies.Andreea Marinescu is associate professor of Spanish at Colorado College. Her primary areas of specialization are contemporary Latin American film, literature, and cultural studies, with particular interests in twentieth- and-twenty-first-century Southern Cone literature and film through the lens of literary and critical theory. She has published several articles on the relationship between politics and art in the works of Roberto Bola?o and Ra?l Ruiz.