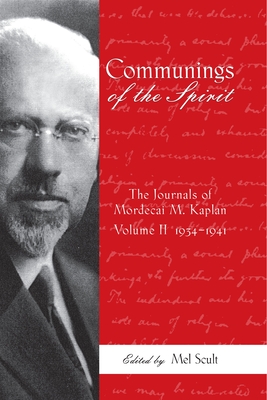 Communings of the Spirit (Hardcover)
The Journals of Mordecai M. Kaplan, Volume 2: 1934-1941
Wayne State University Press, 9780814341612, 470pp.
Publication Date: September 1, 2016
Other Editions of This Title:
Paperback (5/1/2002)
Hardcover (6/1/2001)
* Individual store prices may vary.
Description
Mordecai M. Kaplan (1881-1983), founder of Reconstructionism, is the preeminent American Jewish thinker and rabbi of our times. His life embodies the American Jewish experience of the first half of the twentieth century. With passionate intensity and uncommon candor, Kaplan compulsively recorded his experience in his journals, some ten thousand pages. At times, Kaplan thought his ideas were too radical or complex to share with his congregation. What he could not share publicly he put into his journals. In this diary we find his uncensored thoughts on a variety of subjects. Thus, the diary was much more sophisticated and radical than anything he published while living.

While in the first volume of Communings of the Spirit, editor Mel Scult covers Kaplan's early years as a rabbi, teacher of rabbis, and community leader, in the second volume we experience through Kaplan the economic problems of the 1930s and their shattering impact on the Jewish community. It becomes clear that Kaplan, like so many others during this period, was attracted to the solutions offered by communism, notwithstanding some hesitation because of the anti-religious nature of communist ideology. Through Kaplan we come to understand the Jewish community in the yishuv (Jews in Palestine) as Kaplan spent two years teaching at the Hebrew University in Jerusalem and his close circle of friends included Martin Buber, Judah Leon Magnes, and other prominent personalities. It is also during this time that the specter of Nazi Germany begins to haunt American Jews, and Kaplan, sensitive to the threats, is obsessed with Jewish security, both in Europe and Palestine.

More than anything else, this diary is the chronicle of Kaplan's spiritual and intellectual journey in the early 1930s and 1940s. With honesty and vivid detail, Kaplan explores his evolving beliefs on religious naturalism and his uncertainties and self-doubts as he grapples with a wide range of theological issues.
About the Author
Mel Scult is professor emeritus at Brooklyn College, the City University of New York. He edited Communings of the Spirit: The Journals of Mordecai Kaplan, Volume 1: 1913-1934 (Wayne State University Press, 2002), and his most recent work is The Radical American Judaism of Mordecai M. Kaplan.