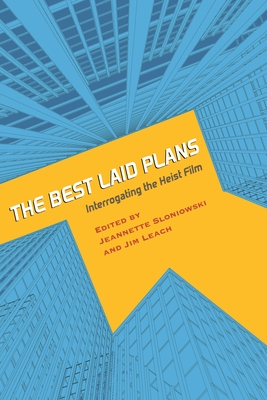 The Best Laid Plans (Paperback)
Interrogating the Heist Film (Contemporary Approaches to Film and Media)
Wayne State University Press, 9780814342244, 268pp.
Publication Date: December 4, 2017
* Individual store prices may vary.
Description
The heist-a carefully organized robbery of a financial institution or other lucrative business-has been a persistent and popular mainstay of the crime film. The Best Laid Plans: Interrogating the Heist Film asks the question: why has the heist film proved so appealing to audiences over many years and in diverse cultural contexts? The twelve essays in this volume, edited by Jim Leach and Jeannette Sloniowski, explore the significance of the heist film in different national cinemas, as well as its aesthetic principles and ideological issues such as representation of gender, race, and class.
The essays are organized in three parts dealing with the heist film's international presence, the subgenre's social and cultural implications, and some theoretical ways of approaching it. For example, contributor Tim Palmer challenges traditional notions of French film history that emphasize critically acclaimed art films by pointing to the rich achievements of critically defamed and neglected, but extremely popular, crime films; Gaylyn Studlar surveys heist films in light of feminist theories that illuminate stereotypical characterizations of both men and women in the heist; and Hamilton Carroll compares James Marsh's documentary Man on a Wire-which draws on heist conventions to depict Philippe Petit's unauthorized tightrope walk in 1974 between the two towers of the World Trade Center-to Spike Lee's New York-set heist film Inside Man.
The Best Laid Plans includes an accessible group of essays that will meet the needs of students and scholars in film and media studies by offering new insights into an important and neglected area in genre criticism.
About the Author
Jeannette Sloniowski is a retired associate professor from the department of Communication, Popular Culture and Film at Brock University. She is the co-author/editor of Detecting Canada: Essays on Canadian Detective Fiction, Documenting the Documentary: Close Readings of Documentary Films (Wayne State University Press, 2008), and Candid Eyes: Essays on Canadian Documentaries.Jim Leach is professor emeritus in the department of Communication, Popular Culture and Film at Brock University. He is the author of books on filmmakers Alain Tanner and Claude Jutra, as well as the author of British Film and Film in Canada. He has also published a monograph on Doctor Who (Wayne State University Press, 2009), co-edited a volume on Canadian documentary films, and developed a Canadian edition of an introductory film studies textbook.