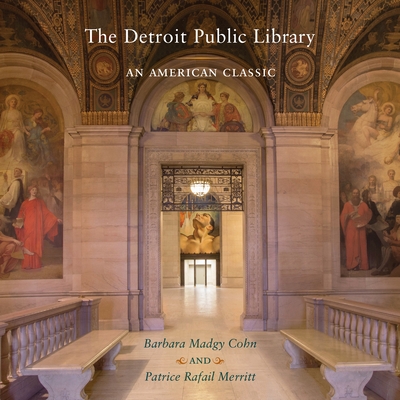 The Detroit Public Library (Hardcover)
An American Classic (Painted Turtle)
Painted Turtle Book, 9780814342329, 200pp.
Publication Date: May 1, 2017
Description
For the last century, the Detroit Public Library has ranked as one of the most beautiful buildings in Detroit-an important landmark as well as a significant monument serving generations of Detroiters. The Detroit Public Library: An American Classic was born out of "Discover the Wonders," an art and architectural tour of the main library that began in December 2013. Since the tour's inception, around seven thousand people have visited this structural gem. The Detroit Public Library was the result of numerous requests for a book that showcases the library's many artistic and architectural wonders. As the photographs in this book reveal, the Detroit Public Library stands as an enduring symbol of the public library, one of the most democratic institutions in America.
The design of the Detroit Public Library was Cass Gilbert's vision for Detroit's Early Italian Renaissance-style library. This book honors his work with a chronological and photographic timeline of the conception and building of the 1921 Woodward Avenue Library, the 1963 Cass Avenue addition, and the library as it is today. The book goes through the library's transformative years, documenting the contributions of local and national artists such as Mary Chase Perry Stratton, Gari Melchers, and John Stephens Coppin, and includes photographs of the rooms they have decorated with murals, mosaics, painted windows, bronze works, architectural elements, and ornamentation. In preparing The Detroit Public Library, the authors had two fundamental desires, as they note in their preface. The first was to celebrate the main library's design using both historic and contemporary images, the latter contributed by a number of photographers presently working in Detroit. The second was "to share with the world the beauty and elegance of a grand building in a great city that, even through the most difficult times, has sustained one of the most magnificent neo-classical buildings in the country."
The Detroit Public Library unites the interests of history buffs, art enthusiasts, library lovers, and Detroit-area locals with a tribute to one of the city's most impressive structures. This book will appeal to those looking to learn about the builders, the history, and the stories that brought the Detroit Public Library to fruition.
About the Author
As a native of Detroit, Barbara Madgy Cohn has a passion for art, Detroit, and libraries. She has worked as a registered nurse, has a B.A. in art history, and has been a docent at the Detroit Institute of Arts since 2008. She created the "Discover the Wonders of the Detroit Public Library: An Art and Architectural Tour" and continues to serve as the director of the tour program. Patrice Rafail Merritt has served as a professional librarian and library fundraiser for over thirty-five years. During her tenure as executive director of the Detroit Public Library Friends Foundation, she supported and implemented the tour program and continues to serve as a docent for library tours.
Advertisement