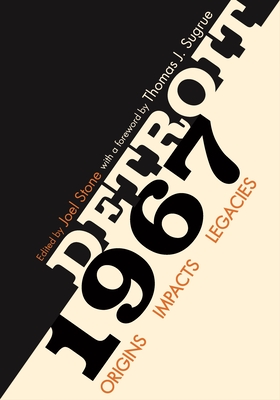 Detroit 1967
Origins, Impacts, Legacies (Painted Turtle)
Hardcover

* Individual store prices may vary.
Description
In the summer of 1967, Detroit experienced one of the worst racially charged civil disturbances in United States history. Years of frustration generated by entrenched and institutionalized racism boiled over late on a hot July night. In an event that has been called a "riot," "rebellion," "uprising," and "insurrection," thousands of African Americans took to the street for several days of looting, arson, and gunfire. Law enforcement was overwhelmed, and it wasn't until battle-tested federal troops arrived that the city returned to some semblance of normalcy. Fifty years later, native Detroiters cite this event as pivotal in the city's history, yet few completely understand what happened, why it happened, or how it continues to affect the city today. Discussions of the events are often rife with misinformation and myths, and seldom take place across racial lines. It is editor Joel Stone's intention with Detroit 1967: Origins, Impacts, Legacies to draw memories, facts, and analysis together to create a broader context for these conversations.
In order to tell a more complete story,
Detroit 1967
starts at the beginning with colonial slavery along the Detroit River and culminates with an examination of the state of race relations today and suggestions for the future. Readers are led down a timeline that features chapters discussing the critical role that unfree people played in establishing Detroit, the path that postwar manufacturers within the city were taking to the suburbs and eventually to other states, as well as the widely held untruth that all white people wanted to abandon Detroit after 1967. Twenty contributors, from journalists like Tim Kiska, Bill McGraw, and Desiree Cooper to historians like DeWitt S. Dykes, Danielle L. McGuire, and Kevin Boyle, have individually created a rich body of work on Detroit and race, that is compiled here in a well-rounded, accessible volume.
Detroit 1967
aims to correct fallacies surrounding the events that took place and led up to the summer of 1967 in Detroit, and to encourage informed discussion around this topic. Readers of Detroit history and urban studies will be drawn to and enlightened by these powerful essays.
Painted Turtle Book, 9780814343036, 348pp.
Publication Date: May 18, 2017
About the Author
Joel Stone is the senior curator at the Detroit Historical Society, which oversees the Detroit Historical Museum and the Dossin Great Lakes Museum. A native Detroiter, he has written and edited works spanning the city's history. Stone's most recent book is Floating Palaces of the Great Lakes.
or
Not Currently Available for Direct Purchase