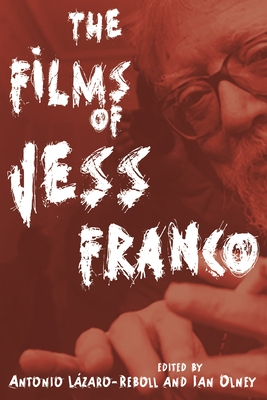 Films of Jess Franco (Contemporary Approaches to Film and Media) (Paperback)
Wayne State University Press, 9780814343166, 372pp.
Publication Date: August 20, 2018
Other Editions of This Title:
Hardcover (8/20/2018)
* Individual store prices may vary.
Description
The Films of Jess Franco looks at the work of Jes's "Jess" Franco (1930-2013), one of the most prolific and madly inventive filmmakers in the history of cinema. He is best known as the director of jazzy, erotically charged horror movies featuring mad scientists, lesbian vampires, and women in prison, but he also dabbled in a multitude of genres from comedy to science fiction to pornography. Although he built his career in the ghetto of low-budget exploitation cinema, he managed to create a body of work that is deeply personal, frequently political, and surprisingly poetic. Editors Antonio L?zaro-Reboll and Ian Olney have assembled a team of scholars to examine Franco's offbeat films, which command an international cult following and have developed a more mainstream audience in recent years.
Arguing that his multifaceted, paradoxical cinema cannot be pinned down by any one single approach, this edited volume features twelve original essays on Franco's movies written from a variety of different perspectives. The Films of Jess Franco does not avoid the methodologies most commonly used in the past to analyze Franco's work-auteur criticism, genre criticism, and cult film criticism-yet it does show how Franco's films complicate these critical approaches. This volume opens up fresh avenues for academic inquiry by considering his oeuvre from a range of viewpoints, including transnational film studies, cinephilia studies, and star studies. The book effectively meets the challenge of Franco's multidimensional cinema with multifaceted criticism-attentive to the shifting historical contexts, modes of production and consumption, and formats of Franco's work-that supplements current Franco scholarship and suggests exciting new directions for its further development.
The Films of Jess Franco seeks to address the scholarly neglect of this legendary cult director and to broaden the conversation around the director's work in ways that will be of interest to fans and academics alike.
About the Author
Antonio L?zaro-Reboll is senior lecturer in Hispanic Studies at the University of Kent (UK), where he teaches Spanish and European film. He is the author of Spanish Horror Film and co-editor with Andrew Willis of Spanish Popular Cinema. He has published several essays on the cross-cultural dialogue between Spanish horror and international traditions of the horror genre.Ian Olney is an associate professor of English at York College of Pennsylvania, where he teaches film studies. He is the author of Zombie Cinema and Euro Horror: Classic European Horror Cinema in Contemporary American Culture, as well as numerous essays on European cinema and the horror film.