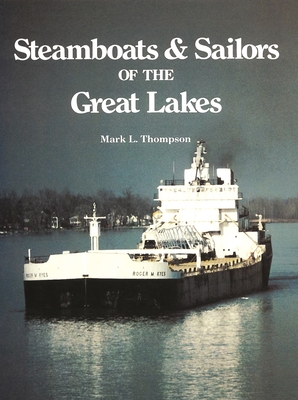 Steamboats and Sailors of the Great Lakes (Great Lakes Books) (Paperback)
Wayne State University Press, 9780814343340, 232pp.
Publication Date: December 1, 2017
* Individual store prices may vary.
Description
The Great Lakes shipping industry can trace its lineage to 1679 with the launching on Lake Erie of the Griffon, a sixty-foot galley weighing nearly fifty tons. Built by LaSalle, a French explorer who had been commissioned to search for a passage through North America to China, it was the first sailing ship to operate on the upper lakes, signaling the dawn of the Great Lakes shipping industry as we know it today.
Steamboats and Sailors of the Great Lakes is the most thorough and factual study of the Great Lakes shipping industry written this century. Author Mark L. Thompson tells the fascinating story of the world's most efficient bulk transportation system, describing the Great Lakes freighters, the cargoes of the great ships, and the men and women who have served as crew. He documents the dramatic changes that have taken places in the industry and looks at the critical role that Great Lakes shipping plays in the economic well-being of the U.S. and Canada, despite the fact tat the size of the fleet and the amount of cargo carried have declined dramatically in recent years.
Spanning more than three centuries, from LaSalle's voyage in 1679, through 1975 with the mysterious sinking of the Edmund Fitzgerald, to life aboard today's thousand-foot behemoths, this important volume documents the evolution of the industry through its "Golden Age" at the end of the nineteenth century to the present, with a downsized U.S. fleet that numbers fewer than seventy vessels.
About the Author
Mark L. Thompson is a freelance writer and merchant seaman living in Alpena, Michigan. His lifelong love affair with the Great Lakes shipping industry has included stints as a crew member aboard the big boats and a maritime academy administrator.