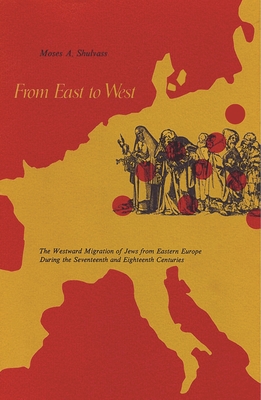 From East to West (Paperback)
The Westward Migration of Jews from Eastern Europe During the Seventeenth and Eighteenth Centuries
Wayne State University Press, 9780814343463, 161pp.
Publication Date: December 1, 2017
* Individual store prices may vary.
Description
Migration has been a major factor in the life of the Jewish people throughout the two and a half millennia of their dispersion. And yet, the history of the Jewish migratory movements has not been fully explored in Jewish history. While the Jewish migratory movements in the nineteenth and twentieth centuries, and especially immigration to the New World, have attracted the attention of scholars, earlier such movements did not. In the present book I propose to discuss such a movement of an earlier period, that from Eastern Europe to the countries of the West, from its inception at the beginning of the seventeenth century to the dissolution of the old Polish commonwealth. Since this book deals with the history of a Jewish migratory movement, it should be understood that unless otherwise indicated, the terms emigrants, immigrants, and migrants refer to Jews
About the Author
Moses A. Shulvass was distinguished Service Professor of Jewish History and chairman of the department of graduate studies at Spertus College of Judaica in Chicago, IL. He is a native of Poland where he received his rabbinical degree in Warsaw. Rabbi Shulvass, who also earned a PhD degree at Friedrich Wilhelms University in Berlin, is the author of six previous books and numerous articles in Jewish scholarly and literary journals.