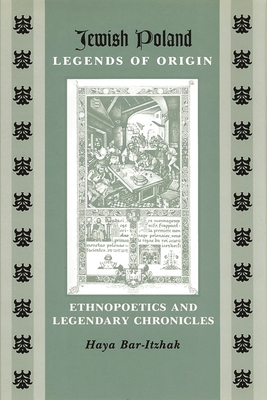 Jewish Poland--Legends of Origin (Paperback)
Ethnopoetics and Legendary Chronicles
Wayne State University Press, 9780814343913, 195pp.
Publication Date: February 5, 2018
* Individual store prices may vary.
Description
The first appearance of Jews in Poland and their adventures during their early years of settlement in the country are concealed in undocumented shadows of history. What survived are legends of origin that early chroniclers, historians, writers, and folklore scholars transcribed, thus contributing to their preservation. According to the legendary chronicles Jews resided in Poland for a millennium and developed a vibrant community.
Haya Bar-Itzhak examines the legends of origin of the Jews of Poland and discloses how the community creates its own chronicle, how it structures and consolidates its identity through stories about its founding, and how this identity varies from age to age. Bar-Itzhak also examines what happened to these legends after the extermination of Polish Jewry during the Holocaust, when the human space they describe no longer exists except in memory. For the Polish Jews after the Holocaust, the legends of origin undergo a fascinating transformation into legends of destruction.
Jewish Poland-Legends of Origin
brings to light the more obscure legends of origin as well as those already well known. This book will be of interest to scholars in folklore studies as well as to scholars of Judaic history and culture.
About the Author
Haya Bar-Itzhak is head of folklore studies and chair of the Department of Hebrew and Comparative Literature at the University of Haifa, Israel. She is the author of numerous essays and books and is co-author of Jewish Moroccan Folk Narratives from Israel, which was selected as an honor book of the 1994 National Jewish book Award in Folklore/Anthropology by the Jewish Book Council.