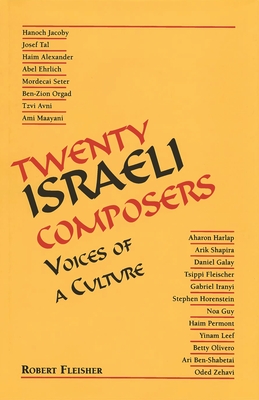 Twenty Israeli Composers (Paperback)
Voices of a Culture
Wayne State University Press, 9780814344255, 380pp.
Publication Date: February 5, 2018
Other Editions of This Title:
Hardcover (5/1/1997)
* Individual store prices may vary.
Description
Israel's contemporary art music reflects a modern society that is an intricate fabric of national and ethnic origins, languages and dialects, customs and traditions--a heterogeneous culture of cultures. It is a rich and distinctive environment--at once ancient and modern, spiritual and secular, traditional and progressive.

Twenty Israeli Composers, the first published collection of interviews with Israeli composers, explores this developing and distinctive music culture. The featured composers have earned distinction in Israel and abroad, and reflect the pluralism of Israeli art music, culture, and society. In first-person narrative, they discuss the interaction of inspiration, method, and cultural context in their work, revealing both international and national influence and scope. Three generations of contemporary composers-immigrants from Central and Eastern Europe, North and South America, and na ve sabras- share their ideas about music, the creative process, and their experiences as artists living and working in Israel. Robert Fleisher furnishes a biographical sketch of each composer, followed by a summary of recent accomplishments. The book also includes a bibliography, discography, and information for further study.
About the Author
Robert Fleisher is professor of music theory and composition at Northern Illinois University. He received his Doctor of Musical Arts in composition from the University of Illinois.