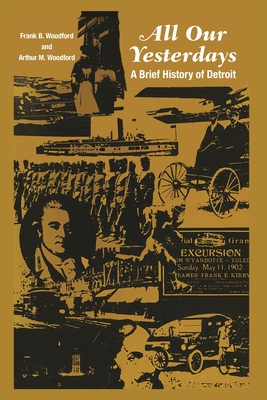 All Our Yesterdays (Paperback)
A Brief History of Detroit
Wayne State University Press, 9780814344439, 410pp.
Publication Date: December 1, 2017
* Individual store prices may vary.
Description
All Our Yesterdays is an accurate account based on extensive historical research when initially published in 1969, and is written in such a style as to make interesting and historical snapshot of the history of the city of Detroit.
The authors recount the founding of the town by the French, control by the British, and growth as an American city. These episodes are recounted in the words and deeds of the people who lived and worked here, men like Judge Woodward, Father Gabriel Richard, and Governor Lewis Cass. The reader meets, among others, old General Hull surrendering the city to the British General Brock, dread cholera epidemics killing hundreds of residents, a man named Vernor making up a batch of excellent ginger ale to sell in his drug store, and Charles King building and driving the city's first motor car. Here are also accounts of the expansion of the automobile industry, the days of the Roaring Twenties, Prohibition, Great Depression, World Wars I and II, and the city of the 1950s and 1960s. This is the story of a great city; a story of past deeds, present problems, and future hopes. But more important, this is a story by and about the people of Detroit, for it is the people that have made this city great.
About the Author
Frank B. Woodford (1903-1967) was a native of Detroit. He graduated from Hillsdale College in 1923 and earned a B.S. degree from the University of Pennsylvania in 1925. He was the author or co-author of numerous books on Detroit history. All Our Yesterdays, his final work, is a fitting tribute to Mr. Woodford's appointment as City Historiographer of the city of Detroit. Arthur M. Woodford, also a native of Detroit, was born in 1940. He was educated at the University of Wisconsin, Wayne State University, and the University of Michigan, from which he received his Master of Library Science degree.