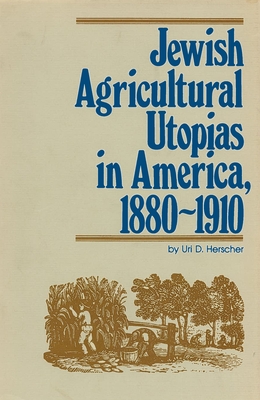 Jewish Agricultural Utopias in America, 1880-1910 (Paperback)
Wayne State University Press, 9780814344651, 197pp.
Publication Date: February 5, 2018
* Individual store prices may vary.
Description
Brook Farm, Oneida, Amana, and Nauvoo are familiar names in American history. Far less familiar are New Odessa, Bethlehem-Jehudah, Cotopaxi, and Alliance--the Brook Farms and Oneidas of the Jewish people in North America.

The wealthy, westernized leaders of late nineteenth-century American Jewry and a member of the immigrating Russian Jews shared an eagerness to "repeal" the lengthy socioeconomic history in which European Jews were confined to petty commerce and denied agricultural experience. A small group of immigrant Jews chose to ignore urbanization and industrialization, defy the depression afflicting agriculture in the late 1800s, and devote themselves to experiments in collective farming in America.
About the Author
Uri D. Herscher is associate professor of American Jewish history and executive vice-president of Hebrew Union College-Jewish Institute of Religion. He holds degrees from the University of California (B.A., 1964) and Hebrew Union College (M.A.H.L., 1970; D.H.L., 1973). Rabbi Herscher is the co-editor, with S. F. Chyet, of On Jews, America, and Immigration: A Socialist Perspective (1980) and author of numerous articles on Jewish history.